Back to Press Releases
FOR IMMEDIATE RELEASE (December 30, 2016)
Free Hands-On Event Helps Fleets Get Jump Start On ELD Mandate
J. J. Keller & Associates, Inc. Introduces Practical Guidance for ELog Success: From Ideas to Plan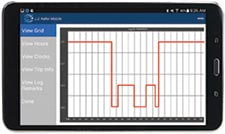 Neenah, WI - Complying with the FMCSA's ELD mandate will require motor carriers to use new technology, new processes, and new skills. To help them prepare for these changes, J. J. Keller & Associates, Inc. announces a new educational event, which will be held nationwide in 2017.
Practical Guidance for Elog Success: From Ideas to Plan is a free five-hour practical event that helps fleet professionals develop their own personalized ELog plan. Attendees will also get insight on how ELog data should be managed and interpreted to minimize risk and improve operations.
"The day-to-day workload of fleet professionals leaves little time to research, plan and conduct a successful ELog rollout," said Tom Reader, director of marketing at J. J. Keller & Associates, Inc. "During this event, we break the process down into essential and manageable components that will help them get their fleet in compliance before the mandate deadline."
Specific areas covered during the event include how to personalize a rollout plan, evaluate an Hours of Service program and operational needs, and use ELogs to improve fleet performance and compliance. Attendees will receive a 40-page ELog rollout workbook and have the opportunity to ask questions of experienced, knowledgeable J. J. Keller subject-matter experts.
To view a calendar of dates and locations for this and other J. J. Keller events, visit JJKeller.com or call 800-843-3174 ext. 8150. Locations and dates are added weekly.
About J. J. Keller & Associates, Inc.
Since its beginning as a one-man consulting firm in 1953, J. J. Keller & Associates, Inc. has grown to become the most respected name in safety and regulatory compliance. Now over 1,400 associates strong, J. J. Keller serves over 560,000 customers — including over 90% of the Fortune 1000® companies. The company's subject-matter expertise spans nearly 1,500 topics, and its diverse solutions include ELogs and mobile technology; training via online courses, streaming video or DVD; online management tools; managed services; consulting services; online and print publications; forms and supplies.
Transportation professionals rely on J. J. Keller's in-house expertise and wide selection of products and services to reduce risk and improve regulatory compliance, performance management, and operational efficiency. For more information, visit JJKeller.com.
For more information, contact:
Mary Borsecnik
Corporate Marketing Communications Specialist
J. J. Keller & Associates, Inc.
1-800-843-3174, ext. 7050
Email: mborsecnik@jjkeller.com