Back to Press Releases
FOR IMMEDIATE RELEASE (November 7, 2023)
Free Educational Event Helps EHS Professionals Manage Environmental Compliance
J. J. Keller to host complimentary virtual event addressing today's top environmental compliance and sustainability challenges.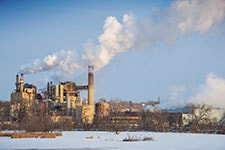 Neenah, WI - Environmental rules and regulations affect every business in the United States, covering everything from hazardous waste to air quality, water quality and other requirements of the Environmental Protection Agency (EPA). Trying to keep up with these regulations and their impact on companies is an ongoing challenge for environmental, health & safety (EHS) professionals.
To make it easier to understand all of the applicable regulations, while also prioritizing long-term growth through corporate sustainability, J. J. Keller & Associates, Inc. is presenting a free webcast, Navigating Today's Environmental Compliance and Sustainability Challenges: Strategies and Solutions for EHS Managers.
This event is based on a survey recently conducted by the J. J. Keller Center for Market Insights, the research arm of J. J. Keller. Published in a 2023 report, The State of Environmental Compliance & Sustainability: Insights on Challenges for Today's EHS Manager, it provides insights on the challenges surrounding current environmental compliance and corporate sustainability efforts.
Presented by J. J. Keller Environmental Industry Business Advisor, Mishka Binns, and taking place on Thursday, November 30, at 10:00 AM CST, this one-hour event will cover:
The top environmental compliance challenges companies face
The most common EHS requirements that must be complied with
The most commonly regulated waste and equipment
The top challenges of improving corporate sustainability
"Based on their company's activities, an EHS professional needs to understand how to comply with numerous federal, state and local regulations, in addition to various government permitting and reporting requirements," said Binns. "This in-depth, interactive event is the perfect opportunity to help them accomplish that."
J. J. Keller, which has been providing regulatory guidance to employers across multiple industries for over 70 years, is a widely-trusted name in safety and compliance. Their expertise spans the regulated areas covered by EPA, OSHA, DOT, DOL and more.
To learn more about managing environmental compliance and corporate sustainability, register for this free webcast by clicking here. Or, to view J. J. Keller's other free safety and compliance events, visit JJKeller.com/events.
About J. J. Keller & Associates, Inc.
Since we began as a family-owned company in 1953, our purpose at J. J. Keller & Associates, Inc. has been to protect people and the businesses they run. Today, serving 500,000+ companies across North America, our associates are proud to make a larger impact than ever. Organizations of all sizes rely on our expert insights to help create safe work environments and simplify complex government regulations. They trust in our comprehensive portfolio of solutions – including ELogs, dash cams and mobile technology; driver training via online courses, streaming video or DVD; cloud-based management tools; managed services; consulting services; online and print publications; forms, PPE and safety supplies.
Safety professionals rely on J. J. Keller's experts, products and services to reduce risk and improve regulatory compliance, performance management, and operational efficiency. Learn more at jjkeller.comand follow us on LinkedIn, X, and Facebook.
For more information, contact: