Back to Press Releases
FOR IMMEDIATE RELEASE (September 11, 2018)
Free Compliance Events Have Helped Nearly 54,000 Professionals Thrive in the Midst of Regulatory Change
J. J. Keller & Associates, Inc. marks 10 years of offering free and timely safety and compliance education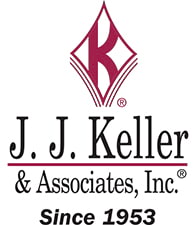 Neenah, WI - If there is one constant in regulatory compliance, it's change. This is a challenging reality for professionals whose success depends on keeping up with the regulations governing their respective industries.
To help ease this burden, J. J. Keller has been offering FREE compliance seminars for over 10 years. As part of a 65-year legacy of helping businesses stay safe and compliant, J. J. Keller compliance events have served nearly 54,000 attendees and provided over 350,500 hours of instruction. By way of approximately 110 events held in nationwide metropolitan areas each year, professionals are provided with critical regulatory news, best practices to help them respond appropriately, and invaluable peer networking opportunities.
"This is a very informative event for anyone involved in safety and/or compliance of CDL drivers," said Alyssa Stachnik, a safety manager and recent attendee to our DOT Essentials Event. "This is a great way to connect with other professionals within the safety and compliance fields, share ideas, struggles, and come up with solutions to any issues involved in safety and compliance of CDL drivers."
Since 2007, J. J. Keller has covered DOT, ELD, OSHA, HR and EPA regulatory news, reporting on:
142 transportation final rules, including high-impact changes such as electronic logging, hours of service, coercion, new entrant safety, and minimum driver training requirements
Revised guidance, hazard alerts, and non-regulatory updates stemming from changes to more than 20 OSHA rules and 450 OSHA Letters of Interpretation
Scores of changes happening at the federal, state, and local levels, including minimum wage ordinances and paid sick leave – all of which require employers to make substantial changes to written policies, health and retirement plans, and other employee benefits
"Our expertise is woven into every product and service we offer, but delivering this first-hand knowledge in person is even more powerful," said Tom Reader, director of marketing at J. J. Keller & Associates, Inc. "Compliance events provide an opportunity to demonstrate our ongoing commitment to the industry professionals we serve. Our subject matter experts, consultants and event staff work tirelessly to help professionals better understand the ever-changing regulations surrounding their industry."
Each of J. J. Keller's compliance events typically lasts 6 hours and includes a meal and parking. HR event attendees also have the opportunity to earn 4 HRCI credits toward HR Certification.
To learn more about J. J. Keller compliance events and register for a session, visit JJKeller.com/events. Events are added monthly.
About J. J. Keller & Associates, Inc.
Serving more than 600,000 customers, including 90% of the Fortune 1000® companies, J. J. Keller & Associates, Inc. is the nation's leading provider of regulatory, safety and compliance solutions. Organizations of all sizes rely on our expert insights to help create safe work environments and simplify the complexities of regulatory compliance. Our diversified portfolio of solutions and services including online management tools, publications, training, forms, supplies, consulting and professional services is trusted to safeguard workers, reduce risk and build operational confidence. As a privately-held, family-owned company since 1953, we are committed to helping protect lives every day. JJKeller.com
For more information, contact: