Back to Press Releases
FOR IMMEDIATE RELEASE (June 9, 2020)
FMCSA Off-Site Audits to Become the New Norm for Fleets
J. J. Keller Offers Free Resources to Help Motor Carriers Prepare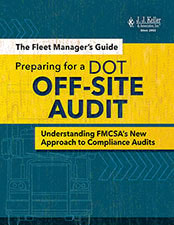 Neenah, WI - On May 19th, the Federal Motor Carrier Safety Administration (FMCSA) announced it would begin the use of off-site compliance reviews for motor carriers during the COVID-19 pandemic. This action is not unexpected as the FMCSA's use of off-site audits had increased over 300% between 2018 and 2019. As the number of fleets that are audited remotely grows, so does the need for guidance on how to prepare and successfully pass an off-site audit.
To equip motor carriers, J. J. Keller is offering a free 28-page download, Preparing for a DOT Off-Site Audit – Understanding FMCSA's New Approach to Compliance Audits. Written by J. J. Keller Sr. Editor Daren Hansen, this guide for fleet professionals explains why motor carriers are selected for off-site audits, which documents the FMCSA will audit, and how to comply with audit requests. Additional guidance is included for New Entrants, along with an assessment tool to determine the risk of an audit.
"While FMCSA did not have COVID-19 in mind when they launched the off-site auditing program, the success of the program to determine carrier safety was quickly realized," Hansen noted. "With FMCSA's new auditing procedures in place, it's important that motor carriers understand the serious nature of an off-site audit. The agency has the power to assign safety ratings and take additional investigative steps they feel are warranted based on findings from the off-site audit."
"Prevention is always the best cure, and in the case of off-site audits, fleets have the power to reduce their risk of being audited," stated Tom Reader, director of ELD marketing at J. J. Keller & Associates, Inc. "This free resource provides more than guidance on how to pass an off-site audit — it offers best practices and proactive steps that management can take now to avoid the interruption of an audit in their future."
J. J. Keller is also offering free access to a new 30-minute on-demand webcast around the topic, Surviving an Off-Site Audit, also led by Hansen.
Fleets can request their FREE copy of the Off-Site Audits Guide at JJKeller.com/OffSiteAudits or by calling 833.708.4634.
About J.J. Keller & Associates, Inc.
Since its beginning as a one-man consulting firm in 1953, J. J. Keller & Associates, Inc. has grown to become the most respected name in safety and regulatory compliance. Now over 1,400 associates strong, J. J. Keller serves over 600,000 customers — including over 90% of the Fortune 1000® companies. The company's subject-matter expertise spans nearly 1,500 topics, and its diverse solutions include ELogs and mobile technology; training via online courses, streaming video or DVD; online management tools; managed services; consulting services; online and print publications; forms and supplies.
Transportation professionals rely on J. J. Keller's in-house expertise and wide selection of products and services to reduce risk and improve regulatory compliance, performance management, and operational efficiency. For more information, www.jjkeller.com.
For more information, contact: