Back to Press Releases
FOR IMMEDIATE RELEASE (April 9, 2019)
'Expert Help' Provides Encompass Customers Direct Access to J.J. Keller Subject-Matter Experts
New feature offers invaluable feedback to critical DOT compliance and hours-of-service questions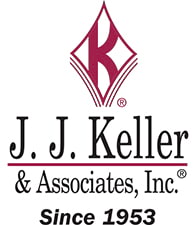 Neenah, WI - Recognized for decades as the compliance and safety leader, J.J. Keller & Associates, Inc. is making it even easier for transportation customers to get answers to critical regulatory questions. The new 'Expert Help' feature, which went live April 7, allows J.J. Keller® Encompass® Fleet Management System customers to submit DOT and hours-of-service compliance questions directly to J.J. Keller's in-house subject-matter experts and receive a response in 24 hours or less (often within just a few hours).
"One of the major benefits of choosing J.J. Keller as a DOT compliance partner is the access Encompass customers receive to our subject-matter experts," said Tom Reader, senior director of marketing at J.J. Keller & Associates, Inc. "Expert Help makes it easy for the customer to connect with our transportation subject-matter experts, putting DOT compliance assistance at their fingertips and helping them stay compliant and keep their fleet running smoothly."
Paired with additional exclusive advisory features like J.J. Keller's DataQs Challenge Service, Roadside Inspection Hotline, and 24/7 support, Expert Help reiterates the company's dedication to providing a superior level of customer service and serving as a reliable compliance partner.
Full instructions for using the new Expert Help feature are available through J.J.Keller's Encompass Support Center.
About J.J. Keller & Associates, Inc.
Since its beginning as a one-man consulting firm in 1953, J. J. Keller & Associates, Inc. has grown to become the most respected name in safety and regulatory compliance. Now over 1,400 associates strong, J. J. Keller serves over 600,000 customers — including over 90% of the Fortune 1000® companies. The company's subject-matter expertise spans nearly 1,500 topics, and its diverse solutions include ELogs and mobile technology; training via online courses, streaming video or DVD; online management tools; managed services; consulting services; online and print publications; forms and supplies.
Transportation professionals rely on J. J. Keller's in-house expertise and wide selection of products and services to reduce risk and improve regulatory compliance, performance management, and operational efficiency. For more information, KellerEncompass.com.
For more information, contact: