Back to Press Releases
FOR IMMEDIATE RELEASE (November 1, 2017)
ELD Resources Available To Roadside Inspectors
J. J. Keller & Associates, Inc. Supports Law Enforcement's Role In Keeping Roads Safe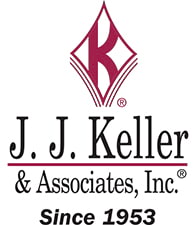 Neenah, WI — The electronic logging device (ELD) mandate not only represents a significant change for commercial motor vehicle drivers, but for inspection personnel as well.
To support inspectors during this time of transition (electronic logging devices will be required starting December 18, 2017, for most commercial vehicles), J. J. Keller & Associates, Inc. has created a resource center at JJKeller.com/inspectors.
The center, which was developed by the company's subject-matter experts, includes inspection instructions for the J. J. Keller® automatic on-board recording device (AOBRD) and ELD solution, as well as a side-by-side comparison of the requirements of AOBRDs and ELDs.
"We thank inspectors for their dedication and commitment to the industry and transportation safety," said Marne Keller-Krikava, president and CEO of J. J. Keller & Associates, Inc. "We have the utmost respect for the work they do and the challenges they face every day, and new challenges, like ELDs, which are on the road ahead."
About J. J. Keller & Associates, Inc.
Since its beginning as a one-man consulting firm in 1953, J. J. Keller & Associates, Inc. has grown to become the most respected name in safety and regulatory compliance. Now over 1,400 associates strong, J. J. Keller serves over 600,000 customers — including over 90% of the Fortune 1000® companies. The company's subject-matter expertise spans nearly 1,500 topics, and its diverse solutions include ELogs and mobile technology; training via online courses, streaming video or DVD; online management tools; managed services; consulting services; online and print publications; forms and supplies.
Transportation professionals rely on J. J. Keller's in-house expertise and wide selection of products and services to reduce risk and improve regulatory compliance, performance management, and operational efficiency. For more information, visit JJKeller.com.
For more information, contact:
Mary Borsecnik
Corporate Marketing Communications Specialist
J. J. Keller & Associates, Inc.
1-800-843-3174, ext. 7050
Email: mborsecnik@jjkeller.com