Back to Press Releases
FOR IMMEDIATE RELEASE (August 4, 2021)
Dual Facing Dash Cam Added to J. J. Keller Lineup
New Professional Driver Dash Cam Solution Offers Protection Against Frivolous Lawsuits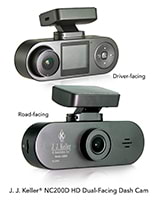 J. J. Keller & Associates, Inc. has added a new high-definition dual-facing dash cam. The new NC200D expands the J. J. Keller dash cam line to include event-based video capture of both the road and the driver, giving fleets additional features for protection from frivolous litigation.
"While not required by law, dash cams give motor carriers compelling video and GPS data to prepare for, and hopefully negate the need for, a day in court — and for less cost than a single trip to the fuel pump," states Tom Reader, J. J. Keller Sr. Director of Marketing.
Mark Schedler, Sr. Transportation Editor for J. J. Keller, encourages fleets to make dash cameras a priority for 2021. "From my experience, there's no better way to protect your driver than using a dash cam. Exoneration isn't possible; it's probable. Statistics show that in fatal truck-passenger vehicle crashes, the passenger-car driver was at fault in a majority of crashes."
The J. J. Keller NC200D dash cam continuously records the road and the cab. Its multi-level sensitivity G-sensor triggers event video captures and securely stores the video footage as an MP4 on the SD card. The capture includes event time, date, GPS speed, trajectory, and location. Additional features include lenses with 140° wide-angle views, Sony image sensors, and Advanced Wide Dynamic Range (WDR) technology to balance bright and dark conditions for better image quality. Plus, the NC200D Dash Cam includes 24/7 driver support.
Visit JJKeller.com/NC200D for more information or call 855.693.5338. The NC200D is in stock and shipping now.
About J. J. Keller & Associates, Inc.
J. J. Keller & Associates, Inc. is the most respected name in safety and regulatory compliance. Since its beginning as a one-man consulting firm in 1953, the company has grown to over 2,000 associates serving more than 500,000 customers — including over 90% of the Fortune 1000® companies. The company's subject-matter expertise spans nearly 1,500 topics, and its diverse solutions include ELogs and mobile technology; training via online courses, streaming video or DVD; online management tools; managed services; consulting services; online and print publications; forms and supplies.
Transportation professionals rely on J. J. Keller's in-house expertise and wide selection of products and services to reduce risk and improve regulatory compliance, performance management, and operational efficiency. For more information, visit JJKeller.com.
For more information, contact:
Susan Baranczyk
J. J. Keller & Associates, Inc.
1-920-727-7391
Email: sbaranczyk@jjkeller.com