Back to Press Releases
FOR IMMEDIATE RELEASE (September 1, 2017)
CVSA's Brake Safety Day Is Almost Here
J. J. Keller & Associates, Inc. Offers Whitepaper To Help Motor Carriers Prepare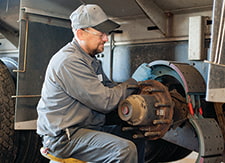 Neenah, WI — The Commercial Vehicle Safety Alliance (CVSA) will conduct its Brake Safety Day on Thursday, September 7, 2017. On that day, commercial motor vehicle inspectors throughout North America will focus on brake system compliance.
"Brake Safety Day serves an important function," said Tom Bray, subject-matter expert at J. J. Keller & Associates, Inc. "It reminds carriers to pay attention to their vehicles' brake systems. During this event, carriers should take a special look at their maintenance practices and driver inspection training to see if there is room for improvement."
Law enforcement will inspect large trucks and buses to identify out-of-adjustment brakes as well as brake-system and antilock braking system (ABS) violations. Brake systems were the number one out-of-service vehicle violation during CVSA's 2017 International Roadcheck in June.
J. J. Keller & Associates, Inc. is offering a free whitepaper, The Importance of Brakes: Key Components, Inspection and Maintenance, to help all personnel at carriers prepare for the event. The whitepaper explains how air brakes function and details necessary measures to keep brake systems in good condition.
To download the whitepaper, visit jjkeller.com/122055.
About J. J. Keller & Associates, Inc.
Since its beginning as a one-man consulting firm in 1953, J. J. Keller & Associates, Inc. has grown to become the most respected name in safety and regulatory compliance. Now over 1,400 associates strong, J. J. Keller serves over 600,000 customers — including over 90% of the Fortune 1000® companies. The company's subject-matter expertise spans nearly 1,500 topics, and its diverse solutions include ELogs and mobile technology; training via online courses, streaming video or DVD; online management tools; managed services; consulting services; online and print publications; forms and supplies.
Safety professionals rely on J. J. Keller's in-house expertise and wide selection of products and services to reduce risk and improve regulatory compliance, performance management, and operational efficiency. For more information, visit JJKeller.com.
For more information, contact:
Mary Borsecnik
Corporate Marketing Communications Specialist
J. J. Keller & Associates, Inc.
1-800-843-3174, ext. 7050
Email: mborsecnik@jjkeller.com