Back to Press Releases
FOR IMMEDIATE RELEASE (July 11, 2017)
Cassens Transport Chooses J. J. Keller & Associates, Inc. as Their ELD Provider
J. J. Keller's implementation support simplifies compliance with the ELD mandate for auto transporter.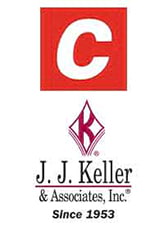 Neenah, WI -Cassens Transport, an auto transporter based in Edwardsville, Ill., is nearing completion of the full implementation of J. J. Keller® electronic logging devices (ELDs) in advance of FMCSA's December 2017 ELD mandate deadline.
"We've long been committed to compliance and safety," said Jay Mitchell, quality compliance manager at Cassens Transport. "J. J. Keller is making complying with the ELD mandate easier than we imagined thanks to the simple ELD installation and their driver-friendly ELog application. With the help of their implementation support team, we've installed ELDs in all 1,500 of our vehicles in under nine months — three months ahead of schedule. And 95 percent of our drivers are now running completely paperless."
"We're honored to help Cassens' multi-location, Teamster-driven fleet to comply with the ELD mandate," said Tom Reader, director of marketing at J. J. Keller & Associates, Inc. "Their smooth rollout is a tribute to Cassens' planning and proactive approach to compliance, along with J. J. Keller's dedicated implementation services and support team."
The ELD mandate requires most motor carriers in the U.S. to have a compliant ELD installed in their commercial motor vehicles by December 18, 2017. This regulatory change is intended to ensure that commercial drivers are accurately tracking their record of duty status in compliance with FMCSA's Hours of Service regulations.
For more information about the J. J. Keller® Encompass® fleet management system with ELogs, visit JJKeller.com/ELogs or call 855-693-5338.
About J. J. Keller & Associates, Inc.
Since its beginning as a one-man consulting firm in 1953, J. J. Keller & Associates, Inc. has grown to become the most respected name in safety and regulatory compliance. Now over 1,400 associates strong, J. J. Keller serves over 600,000 customers — including over 90% of the Fortune 1000® companies. The company's subject-matter expertise spans nearly 1,500 topics, and its diverse solutions include ELogs and mobile technology; training via online courses, streaming video or DVD; online management tools; managed services; consulting services; online and print publications; forms and supplies.
Transportation professionals rely on J. J. Keller's in-house expertise and wide selection of products and services to reduce risk and improve regulatory compliance, performance management, and operational efficiency. For more information, visit JJKeller.com.
About Cassens Transport Company
Headquartered in Edwardsville, Ill., Cassens Transport Company is one of the largest transporters of automobiles in the United States. Established in 1933, Cassens now employs more than 1,400 Teamster drivers, 150 shop personnel, and over 250 other support people. Each day, Cassens' fleet delivers up to 10,000 vehicles for 15 domestic and international automobile manufacturers. For more information, visit Cassens.com.
For more information, contact:
Mary Borsecnik
Corporate Marketing Communications Specialist
J. J. Keller & Associates, Inc.
1-800-843-3174, ext. 7050
Email: mborsecnik@jjkeller.com