Back to Press Releases
FOR IMMEDIATE RELEASE (April 25, 2017)
Cargo Securement To Take Center Stage During Roadcheck 2017
J. J. Keller & Associates, Inc. Offers Fleets Resources To Prepare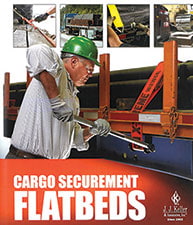 Neenah, WI - With Roadcheck 2017 just weeks away on June 6-8, J. J. Keller & Associates, Inc. is ready to help fleets of all sizes prepare for the annual inspection blitz, which will focus on cargo securement this year.
"One of the leading cargo securement violations is failure to prevent shifting and/or loss of load," said Betty Weiland, senior editorial manager at J. J. Keller & Associates, Inc. "This means that the load cannot shift, spill, or blow off the vehicle. A common misconception is that only flatbed loads require cargo inspections, but inspections are required on all vehicles unless the cargo is sealed or otherwise impractical to check."
Over the 72-hour period, officers certified by the Commercial Vehicle Safety Alliance (CVSA) will inspect tens of thousands of commercial vehicles and their drivers throughout North America. On average, about three times more inspections are done each day of Roadcheck than any other day of the year. During Roadcheck 2016, 62,796 truck and bus inspections were completed, of which, 42,236 were Level 1 inspections, the most comprehensive.
To help fleets get ready for Roadcheck, J. J. Keller & Associates, Inc. offers a wide selection of transportation safety and compliance products and services, as well as a free whitepaper, "What To Expect During Roadcheck 2017." The whitepaper includes information on common vehicle problem areas and cargo securement violations as well as how to prepare drivers. To download the free whitepaper or learn more about J. J. Keller® products and services, visit JJKeller.com/Roadcheck.
About J. J. Keller & Associates, Inc.
Since its beginning as a one-man consulting firm in 1953, J. J. Keller & Associates, Inc. has grown to become the most respected name in safety and regulatory compliance. Now over 1,400 associates strong, J. J. Keller serves over 600,000 customers — including over 90% of the Fortune 1000® companies. The company's subject-matter expertise spans nearly 1,500 topics, and its diverse solutions include ELogs and mobile technology; training via online courses, streaming video or DVD; online management tools; managed services; consulting services; online and print publications; forms and supplies.
Transportation professionals rely on J. J. Keller® in-house expertise and wide selection of products and services to reduce risk and improve regulatory compliance, performance management and operational efficiency. For more information, visit JJKeller.com.
For more information, contact:
Mary Borsecnik
Corporate Marketing Communications Specialist
J. J. Keller & Associates, Inc.
1-800-843-3174, ext. 7050
Email: mborsecnik@jjkeller.com