Back to Press Releases
FOR IMMEDIATE RELEASE (December 14, 2018)
Bystanders Are Empowered to Stop Sexual Harassment
New training from J.J. Keller offers unique approach grounded in research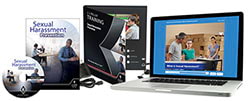 Neenah, WI - Sexual harassment claims are on the rise, with the Equal Opportunity Employment Commission (EEOC) reporting more than 7,600 in 2018 (based on preliminary data). Training is a company's first line of defense against harassment; however, studies show traditional sexual harassment training is ineffective. That's why J.J. Keller & Associates, Inc. has introduced a breakthrough model for training in its new Sexual Harassment Prevention training program.
Developed in cooperation with a leading sexual harassment training expert and researcher, the program is designed around the positive role of the helpful bystander.
"The bystander approach is based on my own research on employee reactions to sexual harassment training and is designed to reduce backlash reactions to training," said Shannon Rawski, Ph.D. "J.J. Keller's training doesn't just stop at presenting the legal definitions; it helps employees understand the social complexity of sexual harassment and ways to establish respectful workgroup norms."
At the heart of the program are the IDEA™ Anti-Harassment Actions, which outline options a bystander can use to respond to observed sexual harassment:
Intervene by distracting or interrupting the harasser;
Direct by talking directly to the harasser after the encounter;s
Elevate by asking a manager or HR for help addressing the situation; or
Approach the victim and provide help and support.
"As the list of states that require training continues to grow, employers need to understand how to effectively train employees to prevent harassment and minimize risk," said Ann Potratz, subject-matter expert at J.J. Keller & Associates, Inc. "Research continues to show that the bystander approach is much more effective than conventional training programs. In fact, leading agencies like the EEOC and the California Department of Fair Employment and Housing have begun recommending it."
Sexual Harassment Prevention is divided into six easy-to-digest modules and is available in an English/Spanish DVD program or Video Training Book, as well as Pay Per View Videos or Online Courses in English or Spanish.
To learn more, visit JJKeller.com/203271.
About J.J. Keller & Associates, Inc.
Serving more than 600,000 customers, including 90% of the Fortune 1000® companies, J.J. Keller & Associates, Inc. is the nation's leading provider of regulatory, safety and compliance solutions. Organizations of all sizes rely on our expert insights to help create safe work environments and simplify the complexities of regulatory compliance. Our diversified portfolio of solutions and services including online management tools, publications, training, forms, supplies, consulting and professional services is trusted to safeguard workers, reduce risk and build operational confidence. As a privately-held, family-owned company since 1953, we are committed to helping protect lives every day. www.jjkeller.com.
For more information, contact: