Back to Press Releases
FOR IMMEDIATE RELEASE (February 18, 2021)
Answers For Fleets Trying To Comply With Canadian ELD Mandate
J. J. Keller delivers new resources for U.S. and Canadian Carriers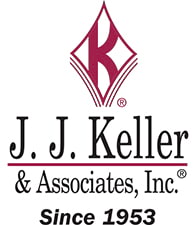 Neenah, WI - Canadian and U.S. carriers can find guidance and tips to comply with Canada's ELD mandate with new resources available from J. J. Keller & Associates, Inc. Scheduled for June 12, 2021, Canada's mandate requires federally-regulated carriers to equip their vehicles with ELDs (electronic logging devices) certified by a third-party accredited by Canada's Minister of Transport.
J. J. Keller's Canadian ELD Mandate Navigator is a free download that provides guidance on the mandate timeline, U.S. and Canadian carrier implementation considerations, and a concise recap of the main differences between the U.S. and Canadian mandates. Created by Heather Ness, J. J. Keller Transport Operations Editor, the Navigator helps carriers consider their implementation plan. "While it may appear that third-party certification of ELDs is going to take longer than expected, carriers should be taking steps to plan for compliance by June 12. Carriers who do not currently use electronic logging devices are most at risk of not meeting the deadline," states Ness.
Tom Reader, J. J. Keller Sr. Director of Marketing, notes that business interruptions and delays caused by ELD implementation can be reduced through a change management approach. "Like the U.S. ELD mandate, carriers that plan and implement ELDs before the deadline will experience less disruption to their organization and customers." He confirmed that J. J. Keller ELDs would be certified to comply with the mandate.
Fleet professionals can find monthly updates related to the Canadian mandate on J. J. Keller's DOT and ELD Compliance Blog or sign up to receive a monthly email.
About J. J. Keller & Associates, Inc.
J. J. Keller & Associates, Inc. is the most respected name in safety and regulatory compliance. Since its beginning as a one-man consulting firm in 1953, the company has grown to over 1,500 associates serving more than 500,000 customers — including over 90% of the Fortune 1000® companies. The company's subject-matter expertise spans nearly 1,500 topics, and its diverse solutions include ELogs and mobile technology; training via online courses, streaming video or DVD; online management tools; managed services; consulting services; online and print publications; forms and supplies.
Transportation professionals rely on J. J. Keller's in-house expertise and wide selection of products and services to reduce risk and improve regulatory compliance, performance management, and operational efficiency. For more information, visit JJKeller.com.
For more information, contact:
Susan Baranczyk
J. J. Keller & Associates, Inc.
1-920-722-7391
Email: sbaranczyk@jjkeller.com