Why Choose J. J. Keller Consulting Services?
Reduce risk. Increase efficiency. Gain compliance confidence.
Our safety consultants help our clients navigate the complexities around the vast regulatory responsibilities they hold as employers. As the nation's most-trusted source for safety and compliance solutions, we are experts in regulations enforced by DOT, OSHA, EPA, DOL and hundreds of state agencies.
97.7% of our customers say J. J. Keller's Consulting Services have positively impacted their organization!

More reasons to trust J. J. Keller Consulting to help with your compliance: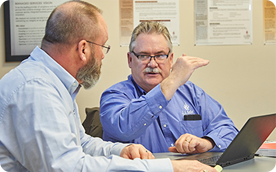 Regulatory Expertise
J. J. Keller's knowledgable safety consultants, combined with our vast product selection, are why clients exclusively rely on us to help them with all things safety or regulatory related.
"The main reason why we chose J. J. Keller was their 60+ years in the industry and the experience. We have significant amount of proof that you are the subject-matters experts with the DOT. Some of the mock DOT audits, resources and training capabilities were available to all of our communities very quickly. J. J. Keller is really a one-stop shop for everything."
Dedicated Associates
Clients work side-by-side with our regulatory compliance experts, who deliver services and solutions that minimize the clients specific risk areas.
"J. J. Keller is the consultant of choice for our head office in Indiana. The work that was done by J. J. Keller was executed well and delivered on time. J. J. Keller has the institutional knowledge and the relationship with the company. You have an idea of how Cummins works. There is a great deal of value in that."
Long-Term Safety Compliance
Our business model centers around ongoing client programs that enable us to provide significant value over typical short-term, transactional services. Our programs with clients span the course of many months, and sometimes years. Our consultants truly become an integral part of the client's safety program.
"You're helping us put together a management system framework, as well as fill the gaps on any policies or procedures we may be missing internally. The outcome has been a number of solid wins for us. Not only have we continued to decrease injuries, we've also cut our work compensation expense by about 40%, improved our OSHA rates, and improved our EMR dramatically — we've been heading in the right direction. J. J. Keller has been a pretty strong partner in helping us reach those goals."
Services We Offer
Generally speaking, you'll find services provided within the following categories:
Government Audit Prep, Support, Response and Fine Abatement
Regulatory Compliance Audits and Assessments
Safety Compliance Program Development, Management and Support
Safety Policy and Procedure Development
Instructor-led Safety Training
Custom Training Curriculum Development
Expert Witness Testimony & Case Support
Government Reporting/Permitting/Legalization
Hazardous Materials Transportation & Classification
Find out how J. J. Keller can help you meet your compliance goals.
Talk with a compliance specialist today at
888-473-4638
.
Learn More About Some of Our Most Popular Services:
Working directly with you at your facilities to assess your applicability and maintain compliance with federal, state and local environmental regulations.

Consultant works with you on-site to ensure your environmental reporting and permitting obligations are filed appropriately.

Protecting companies that handle, package, ship, receive or transport hazardous materials or hazardous waste.

An on-site Environmental, Health & Safety expert working for your company to support your safety and compliance.

Protect your workforce with tailored, company-specific training and curriculum development services.