Back to Press Releases
FOR IMMEDIATE RELEASE (August 15, 2019)
90% of J.J. Keller Encompass Customers Complete AOBRD to ELD Conversion
J.J. Keller offers free ELD compliance check to fleets industry wide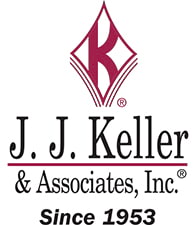 Neenah, WI - With the final ELD Mandate compliance deadline just months away, J.J. Keller & Associates, Inc. isn't wasting any time making sure its AOBRD customers complete the transition to ELDs in time. In addition to having successfully transitioned 90% of their customers to ELDs, the compliance and safety leader is helping to get the rest of the industry on board as well.
Using a 6-point ELD compliance check, J.J. Keller's compliance specialists make it easy for fleets to verify their electronic logging system is compliant with technical requirements outlined in Appendix A to Subpart B of Part 395. Fleets still using AOBRDs will need to complete the transition to ELDs by December 16, 2019.
"We want to give as many fleets as possible the opportunity to comply before the final mandate deadline," said Tom Reader, senior director of marketing at J.J. Keller. "Now that the majority of our customers are well positioned to avoid unnecessary downtime, violations and fines that come with non-compliance, our experts can expand their efforts to help additional fleets do the same."
In addition to easy implementation and the ongoing support of in-house compliance experts, J.J. Keller customers who complete the transition to ELDs also receive comprehensive driver training and in-cab documentation to help educate drivers on mandate requirements and the differences between AOBRDs and ELDs.
Fleets can verify compliance by calling 855.215.3691 or requesting a call at JJKeller.com/verify.
About J.J. Keller & Associates, Inc.
J. J. Keller & Associates, Inc. is the most respected name in safety and regulatory compliance. Since its beginning as a one-man consulting firm in 1953, the company has grown to over 1,400 associates serving more than 600,000 customers — including over 90% of the Fortune 1000® companies. The company's subject-matter expertise spans nearly 1,500 topics, and its diverse solutions include ELogs and mobile technology; training via online courses, streaming video or DVD; online management tools; managed services; consulting services; online and print publications; forms and supplies.
Transportation professionals rely on J. J. Keller's in-house expertise and wide selection of products and services to reduce risk and improve regulatory compliance, performance management, and operational efficiency. For more information, visit www.jjkeller.com.
For more information, contact:
Susan Baranczyk, Corporate Communications
J. J. Keller & Associates, Inc.
1-920-860-5797
Email: sbaranczyk@jjkeller.com