Build A Best-In-Class Safety Program with Corrective Training for Drivers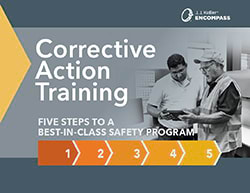 Learn how you can transform your safety culture, reduce risk, and improve retention — with our new Corrective Action Training eBook.
Your ELD and dash cam data empower you to identify and reduce risky driving behaviors. Studies prove that when you pair continuous training with your performance data, you can drastically reduce risk and accidents.
The Corrective Action Training: Five Steps to a Best-in-Class Safety Program eBook delivers actionable guidance to help you:
Secure leadership buy-in to enhance your safety culture,
Maintain and follow policies and procedures,
Exceed regulatory minimums, and
Implement a corrective action training program.
Don't wait to have better CSA BASIC scores or reduce your risk — download your FREE eBook today and talk with a compliance specialist about how Encompass can help you build a best-in-class safety program.