Rely on J. J. Keller for
Canadian Mandate Compliance
The Canadian ELD Mandate deadline is January 1, 2023.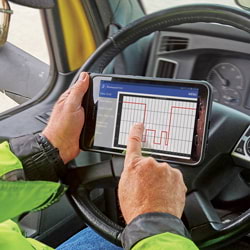 Take the first step towards Canadian ELD mandate compliance and sign up for the J. J. Keller® ELD Quick Comply Program. The program includes:
J. J. KELLER® ELDs:
Certified by 3rd party for Canadian ELD Mandate
Offers border-crossing to and from Canada, Personal Use, Yard Move, and Team Driving features
Standard and Exempt log driver tracking
Roadside Inspection Mode and ELD Data Transfer
Quick installation
Over-the-air technical and regulatory updates (no hardware swapout)
Integrated Mobile Messaging
ENCOMPASS® Fleet Management System — FREE FOR 60 DAYS!
100% log auditing
Powerful reporting for violations
Over 500 training courses
Electronic driver and vehicle recordkeeping
Expert regulatory guidance
IMPLEMENTATION SUPPORT — FREE!
2 hours of implementation assistance
24/7 driver support
Best-in-class technical support
Fill out the form to talk with a compliance specialist about the J. J. Keller® ELD Quick Comply Program. Or call 855.693.5338 to speak with a specialist now.