Manage Every Challenge With Confidence
Every day, more fleets switch to J. J. Keller® Encompass with ELogs. They're the best way to manage your hours-of-service program and are a compliant solution backed by industry-recognized experts.
Our Elog solution delivers compliance, flexibility, and best-in-class support by: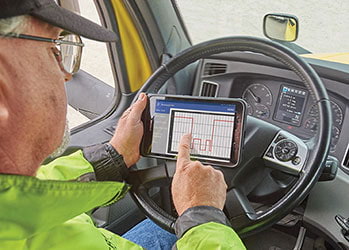 Preventing violations with driver alerts as they approach HOS thresholds on our driver-friendly mobile app
Auditing and tracking HOS records like personal conveyance, yard moves, short-haul, and unassigned drive time
Managing driver availability and performance with real-time visibility to risky driving events and available hours
Maintaining all DOT recordkeeping on the Encompass® Fleet Management Platform including driver qualification, hiring, training, accidents, alcohol and drug program management, and more.
Fill out the form to talk with a compliance specialist and see why more fleets are making the switch to J. J. Keller® ELogs.