Free HOS Training Whitepaper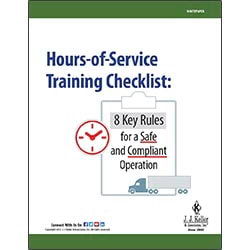 Hours-of-Service Training Checklist: 8 Key Rules for a Safe and Compliant Operation
Complying with the hours-of-service rules and preventing fatigued driving remain critical safety concerns, even with the widespread use of ELogs.
One tried-and-true way to tackle ongoing compliance issues is through training – for drivers, dispatchers, and other operations personnel alike, no matter how long they've worked for you.
Written by J. J. Keller Senior Editor Daren Hansen, this free whitepaper explains eight key (and often misunderstood) hours-of-service compliance areas and why you need to incorporate them into your training program today.
Fill out the form to download your FREE whitepaper.