J. J. Keller® Total Compliance Care™ Service
Total Compliance Care offers you a unique combination of regulatory consulting and ongoing compliance support from the regulatory experts you trust.
You can minimize your compliance risk and exceed your goals with the ideal balance of on-site guidance and support services that only J. J. Keller® Total Compliance Care™ Service can offer. When it comes to your drivers and your brand, your biggest risk is going it alone.
An experienced consultant works hand in hand with you at your locations to evaluate your operations, identify compliance gaps, recommend corrective actions, and drive continuous improvements. Working in tandem with your consultant, a team of client service specialists will manage your driver and vehicle compliance tasks, eliminating your administrative burden.
Together, they'll help you achieve 100% compliance, more effectively reduce accidents, control insurance premiums, and adopt industry best practices.
The path to safety and compliance success starts with J. J. Keller.
Services We Offer
Driver Qualification File Management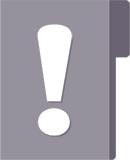 Let us help you centralize, standardize, and maintain your driver qualification files, so you can hire and maintain quality drivers, and know they comply with Parts 383 and 391 of the FMCSRs.
Hours of Service Management Service (Log Auditing)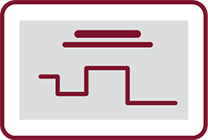 Rely on our professional team to consolidate your sources (ELD logs, paper logs and time sheets), identify and correct gaps, and help you effectively coach your drivers.
Vehicle Title & Registration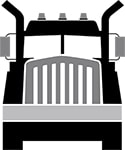 Get your vehicles road ready faster by offloading the time-consuming title and registration management details from start to finish. This service helps you manage vehicle titles and base plates.
Drug & Alcohol Testing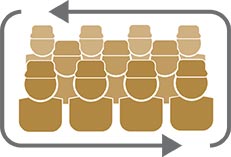 Get complete program administration, including random drug pool management, document auditing, collection site management, medical review officer (MRO) services, lab management and more.
CSA Program Administration Service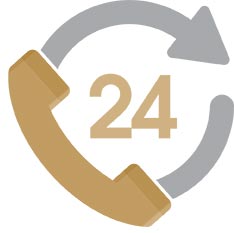 We will actively monitor your roadside inspections, accidents and violations — helping to protect your risk for DOT audit and intervention.
Vehicle Tax & Licensing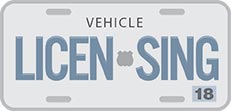 This full vehicle management service covers vehicle licensing and permitting (for IFTA, IRP, HVUT, UCR and more) and fuel tax (IFTA) and mileage tax reporting.
Find out how J. J. Keller can help you meet your compliance goals.
Service Components
Your consultant will leverage regulatory expertise and industry experience to drive continuous improvements, working collaboratively with your client service specialists every step of the way.
Here's how we put our expertise to work for you:
Regulatory Consulting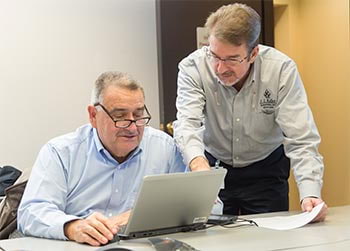 You'll get:
Facility walk-throughs
Q&A meetings with management and drivers
Work process observations
Policy and procedure review
On-site training and curriculum development
Compliance calendar with action plan
Regulatory updates
And more
Compliance Support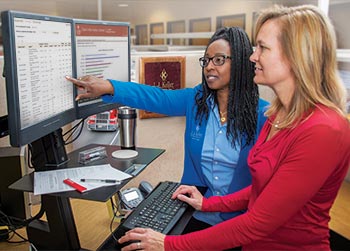 We can:
Audit your driver files and logs
Create and maintain electronic records
Review roadside inspection reports & process DataQs challenges
Support DOT audits
Ensure vehicle compliance (licenses, permits, IFTA & mileage taxes)
Set up clinics for drug and alcohol testing & conduct random pulls
Monitor regulations and notify you when they affect your business
Provide driver coaching guidance and tools
And more
Call us toll free at 833-708-4633 for a no-obligation discussion. Or, if you prefer, fill out this form to learn more!
Why Choose J. J. Keller?
We bring our reputation and credibility to the table. After all, safety and compliance has been our business since 1953.
Regulatory Expertise
Recognized as the nation's leader in safety and regulatory compliance, J. J. Keller delivers an unmatched range of solutions focused on risk mitigation and elimination; process design and improvement; cost and waste reduction; staff training and development; and implementation of metrics and measurements.
Improved Efficiency and Business Flexibility
As we manage your compliance work, you'll have more time to work on other priorities. And, as your company grows, we'll add resources to accommodate your needs — one less thing for you to worry about.
Audit Support
In the event of an audit/intervention or inspection, we'll be there to support you throughout the entire process. You'll get guidance on preparing files and presenting records. We'll even negotiate on your behalf to lower any fines assessed.
BBB Accredited
J. J. Keller is accredited by the Better Business Bureau (BBB), and maintains an A+ rating. Earning this third-party recognition demonstrates our dedication to taking care of customers and operating ethically.
Centralized Storage/Backup
Gain peace of mind knowing that your critical compliance data is in one centralized, secure location that's backed up daily.
Data Security
Rest assured, your data is extremely important to us. Each of our associates is trained in data security, and must sign a legal confidentiality agreement. In addition, our on-staff privacy official maintains oversight of our written policy regarding the protection of client information. We are accredited by the National Association of Professional Background Screeners, and are ISO 27001: 2013 certified.
Find out how J. J. Keller can help you meet your compliance goals.
Related Events
Virtual Event! Surviving a DOT Audit - From Onsite to Offsite
If you were selected for a DOT compliance review or audit today, are you confident that your Safety Management Controls would hold up during an investigation?

Attend this complimentary DOT event, "Avoiding a DOT Audit – From Onsite to Offsite," where you will learn how focused investigations have been outnumbering traditional compliance reviews. Gain Expert Insights on:

• Best practices to avoid a DOT investigation
• The latest trends on DOT reviews
• Regulations and requirements
• The Six Factors of a DOT compliance review
• Investigation scoring methods
• Common violations to avoid

You'll also have time to have your questions answered during our live Q&A session!
Can't join us live? Register anyway and we'll send you a link to the recording.
View all J. J. Keller Events
I'd like to learn more!
Talk with a compliance specialist today at: 833-708-4633 or fill out the form and we'll get in contact with you.