J. J. Keller® Managed Services
Hand off time-consuming regulatory work to our skilled and tenured Managed Services team.
Partner with J. J. Keller® Managed Services to relieve your organization of time-consuming compliance management and recordkeeping for your drivers, vehicles and employees. By partnering with us, you'll have more time to focus on your day-to-day operations.
Service Areas
Find out how J. J. Keller can help you meet your compliance goals.
Why Choose J. J. Keller?
You can confidently build your compliance program around our breadth of services. We bring our reputation and credibility to the table. After all, safety and compliance has been our business since 1953.
Regulatory Expertise
J. J. Keller's deep regulatory knowledge, combined with our industry leading services, are why clients exclusively rely on us to help them with all things safety or regulatory related. By working with us, you tap into an entire network of J. J. Keller specialists who will provide accurate information you can depend on.
More than 70 in-house regulatory subject-matter experts monitor regulations, provide interpretations, write and publish articles, and answer hundreds of compliance questions every day.
Recognized leader in regulatory compliance help.
Improved Efficiency and Business Flexibility
As we monitor your compliance work, you'll have more time to work on other priorities and internal operations. Complying with heavily enforced regulations can reduce your chance of litigation, lower insurance costs, and build strong customer relationships.
When you partner with J. J. Keller, you join over 560,000 customers including 90% of the Fortune 1000® companies
Over 95% of our clients stay with us year over year
Dedicated Associates
Clients work side-by-side with our regulatory compliance experts, who have an average of 10 years of service and are well versed in handling recordkeeping for large, complex organizations. They'll deliver services and solutions that minimize your specific risk areas and work with you to improve compliance processes and answer your questions.
Compliance Data & Analytics
In the age of "big data", knowing how to act on your compliance information is more important than ever. As a client, you'll have access to flexible Business Intelligence reporting through the
J. J. Keller DataSense
™
online portal where you can drill down to specific details, so you can take action to protect your employees and reduce your risk.
Data Security
Rest assured, your data is extremely important to us. Each of our team members is trained in data security and must sign a legal confidentiality agreement. In addition, our on-staff privacy official maintains oversight of our written policy regarding the protection of client information.
We'll keep your employees safe, protect your brand, and make regulations manageable. Learn more today by filling out this form or by calling 833-708-4633!
J. J. Keller DataSense Portal
The J. J. Keller DataSense™ web portal will keep you informed of the compliance work we're managing on your behalf. In addition to working directly with your assigned Client Service Representative, you can access this site to get immediate information on your compliance.
Features to Improve Your Compliance:
A dashboard style interface displays your compliance levels at-a-glance with links to details.
Have direct access to details on specific employees, locations or records
Access quick links to your Client Service Specialist
Use the "Personal Assistant" feature to submit questions to J. J. Keller regulatory experts for answers or clarification
Assign role-based security and access
Self-manage employee lists, driver rosters, assets and more
Always have regulatory news and information at your fingertips
Reporting capabilities allow you to view data from different perspectives
Easily identify issues requiring immediate attention
People & Technology:
The J. J. Keller DataSense™ online portal is a comprehensive compliance resource. The combination of this new technology, our robust online records imaging network, and the direction and oversight of your Client Service Specialist will help you run a safe and compliant operation.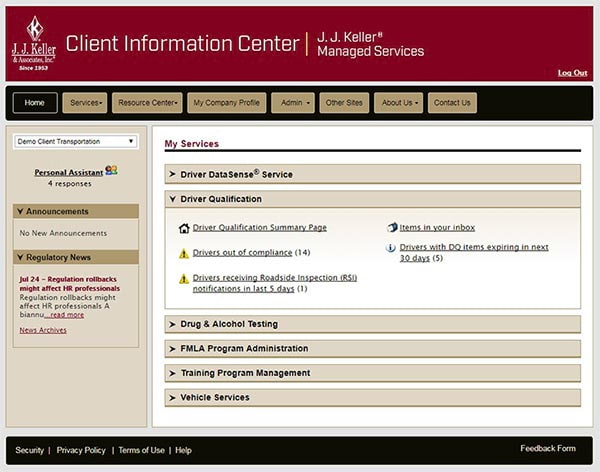 Find out how J. J. Keller can help you meet your compliance goals.
Testimonials
Having dedicated account reps at J. J. Keller makes it really easy for us to refer a community there and to stay in contact after documents have been submitted.
Since the beginning, my J. J. Keller Rep has given me her full attention, gone above and beyond and made very helpful suggestions. I have met my goal, and my new branch location is 100% DQF compliant!
During a recent DOT/FMCSA audit, the auditors were impressed that we had brought on J. J. Keller to help us manage the volume of documentation generated by our operations. Having J. J. Keller's support throughout the auditing process was extremely helpful and beneficial towards achieving a Satisfactory rating.
We brought J. J. Keller on board to assist with reviewing, auditing and managing driver qualification files for approx. 1200 drivers. In addition, J. J. Keller audits all paper and ELD-generated Hours of Service records. J. J. Keller has provided excellent customer service and has been instrumental in helping us manage our DOT-related files and bring them into compliance.
We consider J. J. Keller our one-stop shop for all of our safety needs and now our DOT needs as well. J. J. Keller is not just a resource but a partner with us in our efforts to provide a safe and healthy work environment. We're certainly glad they are on our team!
We'll keep your employees safe, protect your brand, and make regulations manageable. Learn more today by filling out this form or by calling 833-708-4633!
I'd like to learn more!
Talk with a compliance specialist today at: 833-708-4633 or fill out the form and we'll get in contact with you.