Back to Press Releases
FOR IMMEDIATE RELEASE (June 26, 2019)
Truckers Are Uniquely Positioned to Help Stop the Epidemic of Human Trafficking
J. J. Keller's new training program empowers truck drivers to act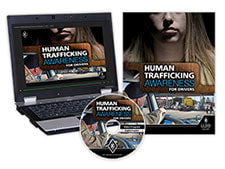 Neenah, WI - More than 49,000 cases of human trafficking have been reported to the National Human Trafficking Hotline over the past 10 years (Polaris Project, 2017). Commercial truck drivers are in a unique position to help because they frequent common trafficking places such as truck stops, rest areas, and gas stations.
Recognizing this, J.J. Keller developed its new Human Trafficking Awareness for Drivers training program, which teaches drivers what human trafficking is and how to help potential victims.
"The authorities can't be everywhere at all times, but drivers can be their eyes and ears," said Heather Ness, J.J. Keller subject-matter expert. "Motor carriers have the opportunity to take an active role and train their drivers on recognizing and reporting human trafficking — and we believe many fleets will see it as the right thing to do."
J.J. Keller's training will help drivers: understand human trafficking and those most at risk; recognize the signs of human trafficking (especially sex trafficking); and respond appropriately when they suspect it's taking place. The training is available in an English/Spanish DVD program, as well as English and Spanish versions of Pay Per View and Online Course formats. Visit JJKeller.com/205139.
About J. J. Keller & Associates, Inc.
J. J. Keller & Associates, Inc. is the most respected name in safety and regulatory compliance. Since its beginning as a one-man consulting firm in 1953, the company has grown to over 1,400 associates serving more than 600,000 customers — including over 90% of the Fortune 1000® companies. The company's subject-matter expertise spans nearly 1,500 topics, and its diverse solutions include ELogs and mobile technology; training via online courses, streaming video or DVD; online management tools; managed services; consulting services; online and print publications; forms and supplies. Transportation professionals rely on J. J. Keller's in-house expertise and wide selection of products and services to reduce risk and improve regulatory compliance, performance management, and operational efficiency. For more information, visit JJKeller.com.
For more information, contact: