Sexual harassment in the workplace is a serious and complex issue. Workplace harassment can have serious consequences for the individuals involved – and for your company – if not addressed properly through measures such as employee harassment training.
The cost of sexual harassment in the workplace is high, leading to:
Severe stress and loss of self-esteem for individuals harassed
Poor morale and employee turnover
Destruction of work relationships
Ineffective teams
Legal fees and fines
Damage to your company's image
J. J. Keller can help you address workplace harassment and its resulting consequences. See the solutions, such as employee harassment training, below.
Sexual Harassment Solutions
Train employers and supervisors on preventing and responding to harassment.

Make important info about sexual harassment visible in the workplace.

Your single source for "how-to" compliance info, including harassment.
The
Costs
of
Sexual Harassment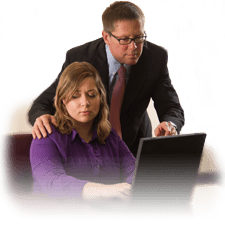 Workplace sexual harassment can cause a variety of problems, not only for the individuals involved, but for the entire workforce and the company as a whole.
Severe emotional distress for those harassed
Strained work relationships, loss of team unity
Increased likelihood of employee turnover
Tarnished reputation of the company
Expenses and time required to address legal issues
Fines or settlement expenses following litigation
$46.3
Millions in penalties collected by EEOC for sexual harassment violations in FY2017
6,696
Number of sexual harassment claims received by EEOC in FY2017
$6,915
Average cost per sexual harassment claim in FY2017
1
Number of sexual harassment incidents it takes to negatively impact your workplace
Notable Sexual Harassment Penalties
In fiscal year 2016, sexual harassment charges filed with EEOC resulted in a whopping $40.7 million in penalties. That number remained high in FY 2017, with $46.3 million in penalties. The following table outlines some substantial judgments and/or settlements handed down since March 2013.
Florida Vacation Agency

$20 million

Iowa Trucking Company

$4.7 million

New Mexico Car Dealership

$2 million

North Carolina Logistics Service

$1.5 million

Washington Egg Supplier

$650,000

Dallas Physician Services Provider

$499,000

Georgia Food Retailer

$370,000

East Coast Retailer

$363,419