NLRB actions depict a more employer-friendly stance
Posted December 20, 2017
For a number of years, the National Labor Relations Board (NLRB)'s decisions had been challenging for employers. Now, with a new administration and new Board members, the tide seems to be changing.
Micro-units
The most recent action involves reinstating the traditional "community-of-interest" standard for determining an appropriate bargaining unit in union representation cases. The move eliminated the concept of "micro-units." Without this change, a small group of employees, such as a single department, could be seen as a bargaining unit, instead of the broader units of employees sharing interests across an organization.
Joint employers
The NLRB has also changed an Obama-era standard to qualify as a joint employer by requiring an employer to have "direct" control over workers — actual exercise of direct and immediate control over workers — rather than also including employers that have only indirect control. A number of employment laws have joint employer provisions, so many employers who had not been considered joint employers that would have been pulled into the law requirements will no longer be.
Employer policies/handbooks
Another employer-friendly move involved policies and employee handbooks. The NLRB has rescinded guidance identifying the types of policies that will be considered as possible violations of the National Labor Relations Act (NLRA). These involve, for example, the following:
Social media use,
Confidentiality,
Professional conduct,
Use of company email for unionizing activities, and
Conflict of interest.
A December 14 decision from the Board also outlined new considerations for whether employers' policies violate the NLRA. Rather than considering whether an employee could reasonably construe that their NLRA rights were restricted by a given policy (the previous standard), the Board will consider a more employer-friendly balancing test, which weighs:
The nature and extent of the potential impact on NLRA rights, and
The employer's legitimate justifications associated with the rule.
Note that the NLRA applies to employees whether they are unionized or not.
This article was written by Darlene M. Clabault of J. J. Keller & Associates, Inc.
---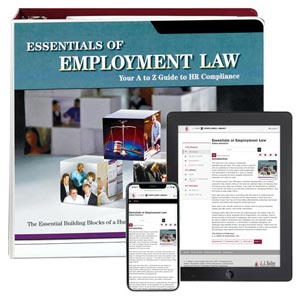 J. J. Keller's Essentials of Employment Law Manual covers more than 100 vital HR topics, including FMLA, ADA, HIPAA, FLSA, COBRA and more.
---
J. J. Keller's FREE HRClicks™ email newsletter brings quick-read human resources-related news right to your email inbox.