U.S. drivers traveling more miles, FHWA reports
Posted December 7, 2016
Since April 2014, motorists in the United States have been logging more miles each consecutive month, according to data recently released by the Federal Highway Administration (FHWA). FHWA reports that 2.4 trillion miles were driven by American drivers in the first nine months of 2016.
FHWA publishes a monthly estimate of U.S. road travel in its "Traffic Volume Trends" report. In its most current edition, FHWA reports 265.5 billion miles were driven in September 2016. This is a 2.9 percent increase over September 2015.
The report uses data adjusted to take into account seasonal variation in travel and enable vehicle miles traveled (VMT) comparisons with any other month in any year. The seasonally-adjusted vehicle miles traveled for September 2016 were 268.7 billion miles. Compared with seasonally adjusted August 2016 figures, September VMT increased by .4 percent. The estimates include passenger vehicle, bus, and truck travel.
In September, FHWA reports:
U.S. drivers increased total mileage among all five regions of the United States.
The Western states — a 13-state region stretching from California to Montana, and including Hawaii and Alaska — showed the greatest increase (5.5 percent) in unadjusted VMT. This region continued an uninterrupted series of monthly increases that began in October 2013.
California led the way with 27.8 billion VMT. This amount was more than the combined 27.7 billion miles of 19 other states and Washington, D.C in the same time period.
North Central states increased the least for the month (1.6 percent). The 12 states stretch from North Dakota to Ohio.
The top states for unadjusted single-state traffic percent increase — compared to the same month last year — were:
Idaho at 5.7 percent
Utah at 5.5 percent, and
Nevada at 5.3 percent.
For the seventh month in a row, at 2.2 percent, North Dakota led the nation with the largest unadjusted traffic decrease for the month.
View the report on FHWA's website.
---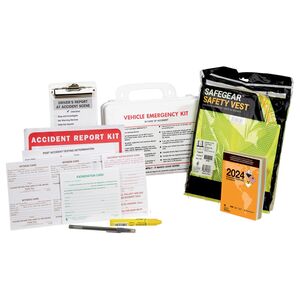 J. J. Keller's Accident Compliance Kit helps drivers collect, organize and report vehicle accident information.
---
J. J. Keller's FREE Transportation SafetyClicks™ email newsletter brings quick-read safety and compliance news right to your email box.