I-9 flexibility extended to December 31
Posted November 24, 2020
Once again, the United States Customs and Immigration Service (USCIS) of the Department of Homeland Security (DHS) extended the deadline for which it will allow fully remote employers to defer the in-person review of acceptable work authorization and identity documents for Employment Eligibility Verification (Forms I-9). You may accomplish this document review by video, fax, emails, and so on. The flexibility otherwise was set to expire on November 19.
This flexibility applies only to employers and workplaces that are operating remotely. If there are employees physically present at a work location, no exceptions will be made for in-person verification of identity and employment eligibility documentation for Form I-9.
If you take advantage of this option, you must be prepared to provide DHS with written documentation of your remote onboarding and telework policy.
You may also continue to designate anyone as authorized representatives to act on your behalf to conduct in-person review of Section 2 documents. You are still responsible for the accuracy and truthfulness, so it's important to know that the individual reviewing the documents understands the obligation.
Once your normal operations resume — which may be before December 31, 2020 or once employees are physically present at the workplace (whichever comes first — those employees who were hired virtually must report for in-person verification.
At that point, you will have three business days to physically examine the same documents previously reviewed electronically/remotely. Once the documents have been physically inspected, you should add "documents physically examined" with the date of inspection to the Section 2 Additional Information field on the Form I-9, or to Section 3, as appropriate.
First instituted in March 2020 due to precautions implemented by employers and employees associated with COVID-19, USCIS announced that it would allow employers to defer the physical presence requirements associated with the Form I-9.
The USCIS has extended this provision a few times already. Going forward, the USCIS will continue to monitor the ongoing national emergency and provide updated guidance as needed. Seems as long as this pandemic continues to surge, you will be able to review the documents virtually.
This article was written by Darlene Clabault of J. J. Keller & Associates, Inc.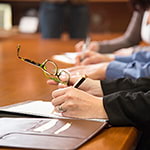 Looking for more on HR compliance?
Get the information and products you need to stay on top of industry changes and comply with regs.