DOT gives public 30 additional days to comment on regulatory review
Posted November 1, 2017
Stakeholders have been given an additional 30 days to comment on the U.S. Department of Transportation's (DOT's) Notification of Regulatory Review, according to a document appearing in the Federal eRulemaking Portal for the docket.
The comment period was originally scheduled to end November 1, 2017. It will now end December 1, 2017. The Department is expected to extend the comment period through an official notice published in the Federal Register.
On October 2, 2017, DOT issued a Notification of Regulatory Review seeking comments from the public on existing rules and other agency actions that are good candidates for repeal, replacement, suspension, or modification. The Department indicates it received multiple requests for an extension of the comment period, ranging from 30 to 90 days from the initial close of the comment period. In response, DOT is giving the public an additional 30 days and states it will continue to check the docket for late filed comments after the comment period closes.
Want to submit comments?
Comments on the regulatory review (Docket Number DOT-OST-2017-0069) may be submitted by any of the following methods:
Federal eRulemaking Portal: Follow the online instructions for submitting comments.
Mail: Docket Management Facility, U.S. Department of Transportation, 1200 New Jersey Ave., SE, West Building Ground Floor, Room W12-140, Washington, DC 20590-0001.
Hand Delivery or Courier: West Building Ground Floor, Room W12-140, 1200 New Jersey Ave., SE, between 9:00 a.m. and 5:00 p.m. ET, Monday through Friday, except federal holidays.
Fax: (202) 493-2251
You must include the agency name and docket number at the beginning of your submission. All submissions received will be posted without change to Federal eRulemaking Portal, including any personal information provided.
---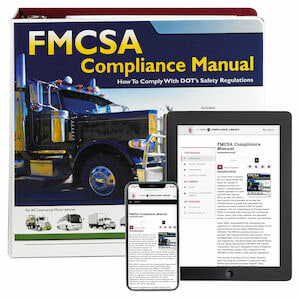 J. J. Keller's FMCSA Compliance Manual helps companies operating commercial motor vehicles (CMVs) comply with DOT regulations.
---
J. J. Keller's FREE Transportation SafetyClicks™ email newsletter brings quick-read safety and compliance news right to your email box.