FMCSA to consider HOS revisions
Posted August 22, 2018
The Federal Motor Carrier Safety Administration (FMCSA) is seeking the public's input on four specific areas of the current hours-of-service regulations.
The request is in response to Congressional, industry, and citizen concerns that certain hours-of-service requirements place unnecessary burdens on drivers while not having a positive impact on highway safety. It will be published as an advanced notice of proposed rulemaking (ANPRM) in an upcoming edition of the Federal Register.
The four areas under consideration for revision are:
Expanding the current 100 air-mile "short-haul" exemption from 12 hours on-duty to 14 hours on-duty, for consistency with the rules for long-haul truck drivers;
Extending the current 14-hour on-duty limitation by up to two hours when a truck driver encounters adverse driving conditions;
Revising the current mandatory 30-minute break for truck drivers after 8-hours of continuous driving; and
Reinstating the option for splitting up the required 10-hour off-duty rest break for drivers operating trucks that are equipped with a sleeper-berth compartment.
The ANPRM will also seek public comment on two recently submitted petitions requesting regulatory relief from the hours-of-service rules pertaining to:
The 14-hour on-duty limitation (filed by the Owner-Operators Independent Drivers Association); and
The 10-hour off-duty requirement (filed by TruckerNation).
In addition to soliciting comment via the ANPRM, FMCSA plans on holding a series of public listening sessions. The first will be held at the Great American Trucking Show (GATS) in Dallas on Friday, August 24, at 3:00 p.m.
---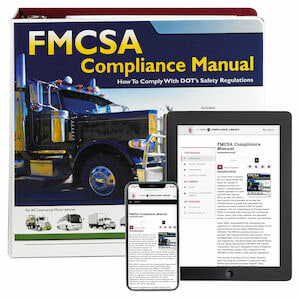 J. J. Keller's FMCSA Compliance Manual helps companies operating commercial motor vehicles (CMVs) comply with DOT regulations.
---
J. J. Keller's FREE Transportation SafetyClicks™ email newsletter brings quick-read safety and compliance news right to your email box.