Panel offers advice to OSHA on possible changes to PSM Standard
Posted August 9, 2016
The OSHA Small Business Advocacy Review (SBAR) panel submitted its report on possible revisions to OSHA's Process Safety Management (PSM) standard, 29 CFR 1910.119, and related revisions to the Explosives and Blasting Agents standard (Explosives Standard), 29 CFR 1910.109. The panel hosted five conference calls with small entity representatives (SERs) to obtain input. Written comments from the SERs are also included.
The report recommends that OSHA:
Review each of the potential scope expansions to establish the extent of the hazard involved and whether PSM is the most appropriate and cost effective mechanism for addressing those hazards and is necessary and justified.
Individually justify any practice changes it proposes and carefully consider regulatory language and guidance so that any required changes can be implemented with a minimum addition of cost and paperwork burden.
Continue to work with EPA to harmonize definitions and the list of covered chemicals and quantities (where appropriate), and work to reduce duplicative paperwork associated with both standards; and, develop (perhaps jointly with EPA) additional tools and guidance materials, such as a compliance matrix, to assist the regulated community in fully understanding the similarities and differences between the two standards, how they interact, and how to comply with both.
Review all unit cost estimates in light of SER comments and compare its estimates with those provided by SERs in their written comments.
Examine all relevant data to quantify to the extent feasible both risk and benefit estimates in order to show there is a need for these revisions, both overall and for specific provisions and industries.
Quantify, to the extent possible, the benefits associated with these new provisions, and consider significant alternatives that accomplish the Agency's objectives while minimizing any significant economic impact on small entities.
Review its estimates of the number of entities that would be added to the PSM standard if the possible changes were made, and whether OSHA has underestimated the number of impacted industries.
The entire report has been posted to the docket at the Federal eRulemaking portal. OSHA will continue to accept public comments on its Process Safety Management Small Entity Representative Background Document until August 12, 2016.
---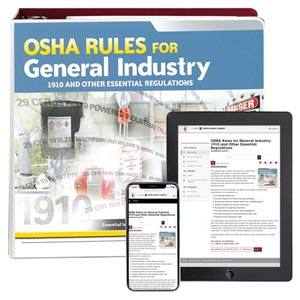 OSHA Rules for General Industry: 1910 and Other Essential Regulations puts OSHA's workplace safety regulations in a reader-friendly format.
---
J. J. Keller's FREE Workplace SafetyClicks™ email newsletter brings quick-read workplace safety and compliance news right to your email box.