Shedding light on human trafficking
Posted July 2, 2019
It's hard to believe that horrific crimes can be committed in our communities, right under our noses, without us even knowing it. But that's the reality when it comes to human trafficking. Human trafficking activity can be subtle; traffickers quietly manipulate, force, and coerce their victims into performing commercial sex acts or labor. Traffickers and their victims often appear to have normal relationships and they use legitimate businesses to carry out their trafficking activities, making them even harder to detect and recognize.
Professional drivers and human trafficking
There are a few groups of people out there, outside of law enforcement, that may come across trafficking situations more often than the general public, however. Professional drivers, due to the nature of their jobs, are often in and around truck stops, restaurants, and hotels/motels. These locations are also places where human trafficking activity takes place. Traffickers often move their victims around and stay in temporary locations, such as hotels and motels, to maximize profits and further avoid detection.
Professional driver empowerment
Because professional drivers are frequently out in public and often traveling around the country, they can act as the eyes and ears for law enforcement. Drivers have the opportunity to disrupt human trafficking activity by reporting what they see to the National Trafficking Hotline or local authorities. However, drivers need the skills to help them recognize the signs. That's where training comes in.
Motor carriers are in a position to teach their drivers to recognize the signs of human trafficking in their day to day activities. Training on recognizing human trafficking, identifying potential victims, and reporting the activities to authorities, can be viewed as the right thing to do.
Strength in numbers
According to the Polaris Project, human trafficking is a $150 billion industry that robs 25 million people worldwide of their freedom. But, it takes just one driver to recognize the signs of human trafficking and report it. Doing so might save a life.
---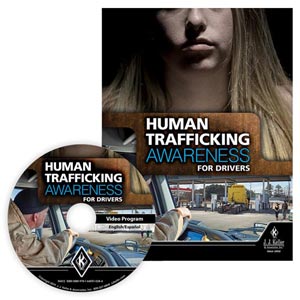 J. J. Keller's Human Trafficking Awareness for Drivers - DVD Training helps truck drivers identify different types of human trafficking and those most at risk of becoming victims.
---
J. J. Keller's FREE Transportation SafetyClicks™ email newsletter brings quick-read safety and compliance news right to your email box.