Seafood industry target of OSHA Region I local emphasis program
Posted June 22, 2023
A new local emphasis program (LEP) in OSHA Region I targets New England seafood processors and wholesaler operations in an effort to reduce the number of hazards, injuries, and fatalities associated with the industry. Inspections will begin 90 days after an initial outreach period, which took effect June 1. Region I includes Connecticut, Maine, Maryland, New Hampshire, Rhode Island, and Vermont.
Despite the high rates of injury and illness linked to New England seafood processors, OSHA does not have an inspection targeting system in place that includes the seafood industry. In the past seven years, there have been two fatalities and four finger amputations at seafood processing and warehousing facilities. Additionally, worker exposure to hazards associated with lockout/tagout, machine guarding, and chemicals, to name a few, contribute to the number of injuries and deaths among industry workers.
After developing a master list, the OSHA Area Director will randomly select sites for inspection.
The LEP, CPL 04-00-026, will expire in five years unless renewed.
This article was written by Carmen King of J. J. Keller & Associates, Inc.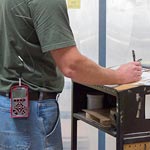 Looking for more on workplace safety?
Get the information and products you need to stay on top of industry changes and comply with regs.