What's up, DOL? What to expect from the DOL and other agencies in the coming months
Posted May 24, 2019
Twice per year, Government agencies published their regulatory agenda, listing their goals for the coming months. In relation to employment law, some of the entries include the following:
ACA: The DOL will invite public comments to better understand the challenges that group health plans and group health insurance issuers face in avoiding a loss of grandfathered status under the Affordable Care Act (ACA) and to determine whether there are opportunities for the government to assist such plans and issuers, consistent with the law, in preserving their grandfathered status in ways that would benefit employers, employer and employee organizations, plan participants and beneficiaries, and other stakeholders. Proposed rule scheduled for September 2019.
ERISA: The DOL is looking for input in response to Executive Order 13847, Strengthening Retirement Security in America, and to explore ways to reduce the costs and burdens imposed on employers and other plan fiduciaries responsible for the production and distribution of retirement plan disclosures required under title I of the Employee Retirement Income Security Act (ERISA), as well as ways to make these disclosures more understandable and useful for participants and beneficiaries. Proposed rule scheduled for December 2019.
FLSA: The DOL proposes to clarify the contours of the joint employment relationship to assist employers in complying with the Fair Labor Standards Act (FLSA). Comment period ends June 2019 (there's still time to comment!).
FLSA: The DOL is looking at the comments received in response to its proposed rules regarding the appropriate salary level for exemption of executive, administrative and professional employees. No date for the final rule has been released.
FLSA: The DOL expects to align its regulations with the FY 2018 Consolidated Appropriations Act with respect to an employer's use of its employees' tips. The DOL also plans on revising the existing "dual jobs" regulation to provide greater clarity regarding an employer's ability to take a tip credit to satisfy minimum wage obligations for time spent by a tipped employee performing duties that are related to the employee's tipped occupation. Proposed rule scheduled for December 2019.
FMLA: The DOL is planning on a Request for Information to solicit comments on ways to improve its regulations under the Family and Medical Leave Act (FMLA) to better protect and suit the needs of workers and reduce administrative and compliance burdens on employers. RFI scheduled for April 2020.
ADA/GINA: The EEOC proposes to amend the regulations to implement the equal employment provisions of the Americans with Disabilities Act (ADA) and the Genetic Information Nondiscrimination Act (GINA) to address the interaction between those laws and wellness programs. Final rules were published in 2016, but in 2017, the U.S. District Court for the District of Columbia ordered the EEOC to reconsider them (AARP v. EEOC). The rules were rescinded in 2018, and the EEOC is now developing proposed rules to again address wellness programs under the ADA and GINA in response to the court's ruling. Proposed rules scheduled for December 2019.
NLRA: The National Labor Relations Board will begin rulemaking to establish the standards under the National Labor Relations Act (NLRA) for access to an employer's private property, determining whether students who perform services at a private college or university in connection with their studies are employees. Proposed rules scheduled for September 2019.
This article was written by Darlene M. Clabault, SHRM-CP, PHR, CLMS, of J. J. Keller & Associates, Inc.
---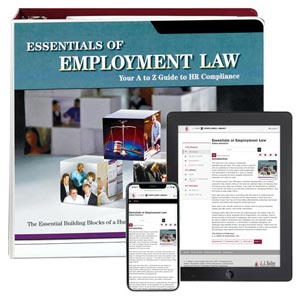 J. J. Keller's Essentials of Employment Law Manual covers more than 100 vital HR topics, including FMLA, ADA, HIPAA, FLSA, COBRA and more.
---
J. J. Keller's FREE HR SafetyClicks™ email newsletter brings quick-read safety and compliance news right to your email box.
Sign up to receive HR SafetyClicks™.