Significant jump in number of complaints to OSHA of unsafe working conditions
Posted April 25, 2017
OSHA is asking for public comment to extend Office of Management and Budget (OMB) approval of the information collection contained in the OSHA-7 Form, a form employees, former employees, and others may use to notify the Agency of the existence of alleged hazards in a workplace. OSHA uses the form to determine whether or not reasonable grounds exist to conduct an inspection of the workplace based on the complaint.
For the current form approval, OSHA is requesting an increase of approximately 5,600 hours in the anticipated number of hours employees and others will spend collectively providing the information on the forms. The difference, according to OSHA, is the result of an overall increase in complaints received annually from 50,641 complaints estimated in the previous form approval (2014) to 70,976 complaints in the current request.
Historically, between 25 and 28 percent of OSHA inspections are conducted in response to a complaint. While complaints can be filed in a number of ways (e.g., online, mail/fax), written complaints signed by a current worker or their representative are more likely to result in an on-site inspection. Note: A worker can tell OSHA not to let their employer know who filed the complaint. Employers are often better off not knowing who filed the complaint, as it is a violation of the OSH Act for an employer to fire, demote, transfer or discriminate in any way against a worker for filing a complaint or exercising other OSHA rights.
The Department of Labor, as part of its continuing effort to reduce paperwork and respondent (i.e., employees filing occupational safety or health complaints) burden, conducts a pre-clearance consultation program to provide the public with an opportunity to comment on proposed collections of information in accord with the Paperwork Reduction Act (PRA). This program ensures that information is in the desired format, reporting burden (time and costs) is minimal, collection instruments are clearly understood, and OSHA's estimate of the information collection burden is accurate.
Comments can be submitted at the Federal eRulemaking Portal; All comments, attachments, and other material must identify the Agency name and the OSHA docket number (Docket No. OSHA-2010-0056).
---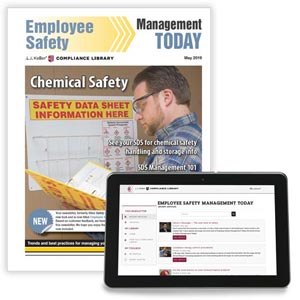 J. J. Keller's Safety Management Today Newsletter is packed with money-saving tips and practical advice that can result in improved on-the-job performance.
---
J. J. Keller's FREE Workplace SafetyClicks™ email newsletter brings quick-read workplace safety and compliance news right to your email box.