OSHA 'could do more' to ensure employers correct workplace hazards
Posted April 13, 2017
Does OSHA ensure employers abate hazards identified during inspections in an adequate and timely manner? That's the question the U.S. Department of Labor's Office of Inspector General (OIG) sought to answer in a recent audit. The OSHA watchdog identified a problem with how the Agency follows up with employers to ensure workplace hazards are corrected.
According to the OIG, OSHA did not ensure employers took adequate and timely abatement actions for an estimated 12,808, or 16 percent, of safety or health violations cited in 2015.
The OIG found that approximately one-third of all abated citations OSHA issued in 2015, employers corrected the hazard during the inspection or within 24 hours of OSHA identifying the hazard. However, for hazards that were not corrected immediately, OSHA took up to 81 days on average to issue a citation and even longer to issue repeat and willful citations.
The OIG points out that the Occupational Safety and Health Act (OSH Act) allows OSHA up to six months to issue a citation for any type of hazard. Employers are not required to abate a hazard until they receive a citation. As a result, many hazards were not abated for an average of 86 days after OSHA's inspection.
The audit also found that abatement of hazards identified at construction sites presented a challenge for OSHA. The Agency closed 16 percent of construction site citations because the construction project ended, not because the employers had corrected the hazards. This meant OSHA had no assurance the cited construction companies had corrected the identified hazards on subsequent construction sites.
Additionally, OIG noted that in one-third of 200 sampled citations, OSHA may not have worked to identify past violations. OSHA inspectors should conduct a search of past violations to help determine whether to issue a citation for a repeat or willful violation.
The OIG recommended OSHA adjust or better enforce its policies on abatement documentation, timeframes for issuing citations, follow-up at construction sites, and documentation of past violation searches.
---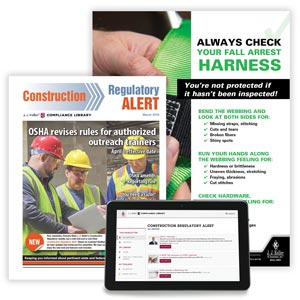 J. J. Keller® Construction Regulatory Update keeps you up-to-date with 1926 regulatory changes and new safety information.
---
J. J. Keller's FREE Workplace SafetyClicks™ email newsletter brings quick-read workplace safety and compliance news right to your email box.