GAO report says more effort needed to reduce workplace violence for health care workers
Posted April 22, 2016
The Government Accountability Office (GAO) released a report, Additional Efforts Needed to Help Protect Health Care Workers from Workplace Violence. OSHA does not require employers to implement workplace violence prevention programs, but it provides voluntary guidelines and may cite employers for failing to provide a workplace free from recognized serious hazards. GAO was asked to review efforts by OSHA to address workplace violence in health care.
According to data from three federal datasets GAO reviewed, workers in health care facilities experience substantially higher estimated rates of nonfatal injury due to workplace violence compared to workers overall.
However, the full extent of the problem and its associated costs are unknown. For example, in 2013, the most recent year that data were available, private-sector health care workers in in-patient facilities, such as hospitals, experienced workplace violence-related injuries requiring days off from work at an estimated rate at least five times higher than the rate for private-sector workers overall, according to data from the Department of Labor.
The number of nonfatal workplace violence cases in health care facilities ranged from an estimated 22,250 to 80,710 cases for 2011, the most recent year that data were available from all three federal datasets that GAO reviewed.
The most common types of reported assaults were hitting, kicking, and beating. The full extent of the problem and associated costs is unknown, however, because health care workers may not always report such incidents, and there is limited research on the issue, among other reasons.
GAO says OSHA increased its education and enforcement efforts to help employers address workplace violence in health care facilities, but GAO identified areas for improvement in accordance with federal internal control standards.
GAO recommends that OSHA:
Provide additional information to assist inspectors in developing citations,
Develop a policy for following up on hazard alert letters concerning workplace violence hazards in health care facilities, and
Assess its current efforts to determine whether additional action, such as development of a standard, may be needed.
OSHA agreed with the recommendations and stated that it would take action to address them.
---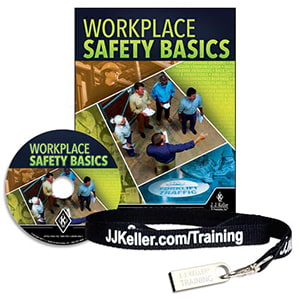 J. J. Keller's Workplace Safety Basics - DVD Training provides a high-level overview of many important safety topics for the workplace.
---
J. J. Keller's FREE Workplace SafetyClicks™ email newsletter brings quick-read workplace safety and compliance news right to your email box.