Regional emphasis program to target auto parts makers in three southern states
Posted March 31, 2017
OSHA has renewed a Regional Emphasis Program (REP) to focus on safety of motor vehicle part manufacturers in Alabama, Georgia, and Mississippi.
The REP was originally established to reduce employee exposures to safety related hazards in the Automotive Parts Supplier Industry (specifically, NAICS code 3363xx, which covers motor vehicle parts manufacturers). Workers in this industry are exposed to caught-in, crushing, struck-by, and electrical hazards due to the machinery utilized in the making of these parts.
Data from the Bureau of Labor Statistics (BLS) shows that in 2010 the auto parts supplier industry in Alabama had a higher injury and illness rate — 4.6 per 100 full-time workers — than the same industry nationwide which had a rate of 3.0 per 100 full time workers, meaning the injury and illness rate in Alabama was 50% higher than the same industry across the country in 2010. Currently, BLS data shows that the 2015 Days-Away, Restricted, Transfer (DART) rate has lowered in Alabama to 2.6 (same as the National average). However, inspection data still indicates a need for the program in this industry, OSHA says.
A review of inspection data from October 1, 2011, to September 30, 2016, revealed that a total of 344 inspections in this industry were completed. Of the 233 inspections that were not "in compliance" (meaning there were no violations found) more than 84 percent of them resulted in Serious, Repeat, and Willful violations. More than 721 violations were cited. OSHA says that 135 violations were associated with lockout/tagout; and 180 violations were associated with machine guarding.
During FY-16, OSHA Region IV conducted 46 inspections coded under the REP. 143 total violations were cited, with the majority of those being violations of the machine guarding and lockout/tagout standards. Because the industry is concentrated in Alabama, Georgia, and Mississippi, the REP is implemented to focus on those jurisdictions, OSHA says.
---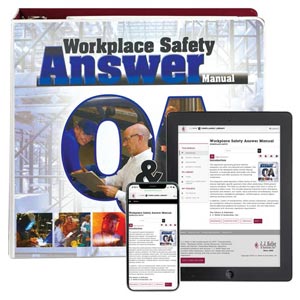 J. J. Keller's Workplace Safety Answer Manual provides a single-source manual that offers quick answers to a wide array of workplace safety questions.
---
J. J. Keller's FREE Workplace SafetyClicks™ email newsletter brings quick-read workplace safety and compliance news right to your email box.