New York court dismisses case against ELD enforcement
Posted January 11, 2019
New York is not currently enforcing the federal electronic logging device (ELD) rules, the state's supreme court has found, which means the state is not violating its own laws.
The Owner Operator Independent Drivers Association (OOIDA) had sued the state, arguing that the New York DOT was enforcing the ELD regulations even though state statutes did not give it the authority to do so.
In a New Year's Eve opinion from Judge Richard M. Platkin, the court dismissed that argument and found no wrongdoing on the part of the state.
Policy is 'No ELD tickets'
Judge Platkin noted that New York's current policy is that "no tickets or Notices of Violation are to be issued citing the federal ELD regulations, and no violations of ELD rules are to be cited on the inspection report."
The state still enforces the federal hours-of-service (HOS) rules in 49 CFR Part 395, but state statutes only allow it to enforce the version of Part 395 that existed in October 2013, before the ELD rules were added.
The state is currently working on legislation to correct that problem. In the meantime, it has a policy not to transfer logs from drivers' ELDs and not to cite drivers for ELD violations.
Inspectors can ask to see a driver's logs and can still review logs on an ELD screen to enforce the HOS rules, but drivers have the option to present either paper or electronic records for now.
The court dismissed several other claims from OOIDA, including a claim that the state's use of ELDs for HOS enforcement constitutes an unreasonable search and seizure and deprives drivers of due process.
This article was written by Daren Hansen of J. J. Keller & Associates, Inc.
---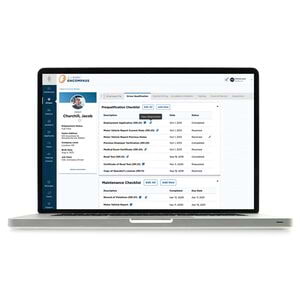 J. J. Keller® E-Logs - Compatible with iPad®, iPhone® and Android™ mobile devices. Affordable, flexible options from the nation's most respected transportation solutions provider.
---
J. J. Keller's FREE Transportation SafetyClicks™ email newsletter brings quick-read safety and compliance news right to your email box.
Sign up to receive Transport SafetyClicks™.