Employee's medical marijuana case moves forward
Posted January 11, 2019
A medical marijuana user who was fired after a positive drug test can move ahead with a lawsuit against his former employer, a Delaware court has ruled.
The employee claimed that his dismissal violated the Delaware Medical Marijuana Act. The act provides protections for medical marijuana patients, including prohibiting an employer from terminating a registered patient based on a positive drug test.
The employer asked that the case be dismissed, arguing that it did not have to accommodate the employee's medical marijuana use because marijuana is illegal under federal law.
Under the federal Controlled Substances Act (CSA), it is "unlawful to manufacture, distribute, dispense, or possess any controlled substance except in a manner authorized by the CSA." The act classifies marijuana as a Schedule I drug and does not make exceptions for medical use.
In a decision issued on December 17, 2018, the Superior Court of the State of Delaware found, however, that the CSA does not make it illegal to employ someone who uses marijuana.
Delaware's medical marijuana act allows marijuana to be used for medical purposes. In addition, the court noted that it "explicitly prohibits employers from disciplining employees who use marijuana for medical reasons, and who fail drug tests because of it."
This is the third time in two years that a court has found that a state medical marijuana law's anti-discrimination provisions are not overridden by the CSA. The other two cases were decided in 2017, in Rhode Island and Connecticut.
Employers in states with medical marijuana laws that prohibit employment discrimination should proceed with caution when taking adverse action on the basis of a positive drug test if the employee has a medical marijuana card.
States that bar employers from firing or refusing to hire an employee who uses medical marijuana in compliance with state law include Delaware, Connecticut, Rhode Island, Arizona, Illinois, Maine, Nevada, New York, Minnesota, and Oklahoma.
Chance v. Kraft Heinz Foods Co., No. K18C-01-056 NEP, Delaware Superior Court, December Court, December 17, 2018.
This article was written by Terri Dougherty of J. J. Keller & Associates, Inc.
---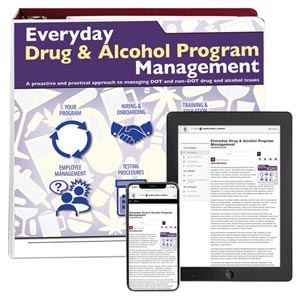 J. J. Keller's Everyday Drug & Alcohol Program Management Manual helps you manage a workplace and/or DOT drug and alcohol test, while complying with state and federal requirements.
---
J. J. Keller's FREE HR SafetyClicks™ email newsletter brings quick-read safety and compliance news right to your email box.