Survey highlights key generational differences among workers
Posted January 19, 2017
In today's multigenerational workforce, most executives agree that each age demographic exhibits its own styles and approaches. CFOs in a recent survey said they see the greatest generational differences in employees' communication skills, ability to adapt to change, and technical abilities. Only seven percent of executives noted there are no differences.
CFOs were asked, "In which one of the following areas do you see the greatest differences among your company's employees who are from different generations?" Their responses:
Communication skills — 30 percent
Adapting to change — 26 percent
Technical skills — 23 percent
Cross-departmental collaboration — 14 percent
No differences — 7 percent
Research conducted for "Get Ready for Generation Z" by Robert Half and Enactus highlights key differences in these areas among baby boomers (1946-1964), Generation X (1965-1977), Generation Y (1978-1989), and Generation Z (1990-1999).
Communication style. Baby boomers tend to be more reserved, while Gen Xers favor a control-and-command style, the research indicates. Conversely, Gen Yers prefer a more collaborative approach to communication, and Gen Zers prize in-person interactions.
Change management. According to the research, Gens X and Y tend to see change as a vehicle for new opportunities, while Gen Z is accustomed to change and expects it in the workplace.
Technical skills. When it comes to building their abilities, employer-backed training is expected by all workers. Baby boomers and Gen Xers most value traditional instructor-led courses or self-learning tools; millennials, which include Generations Y and Z, prefer collaborative and technology-centric options.
Robert Half Management Resources offers five tips for managing a multigenerational workforce:
Don't overthink it. Start with the understanding that everyone wants to do a good job and help the company. This commonality lays a strong foundation for relationship-building.
Customize your style. Staff possess common attributes, but they also have individual needs. Tailor your management for each person's strengths, personality, and aspirations.
Go off-site. Host team-building events outside the office to give employees a chance to get to know each other in a different setting.
Let newer professionals take the lead. Institute reverse mentorships, where less-seasoned staff advise and share their insights with veteran colleagues. Also, invite team members from all generations to share their unique areas of expertise.
Mix and match project teams. Put together groups with complementary skills and diverse perspectives. This can prompt innovation and new problem-solving techniques.
About the research
The survey was developed by Robert Half Management Resources and conducted by an independent research firm. It is based on telephone interviews with more than 2,200 CFOs from a stratified random sample of companies in more than 20 of the largest U.S. metropolitan areas.
---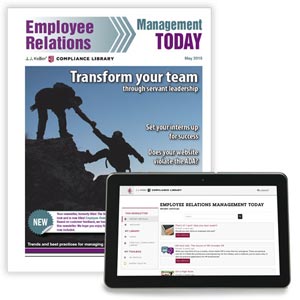 The SUPER adVISOR™ newsletter contains four pages dedicated to the HR manager and a corresponding four-page pullout dedicated to the needs of supervisors.
---
J. J. Keller's FREE HRClicks™ email newsletter brings quick-read human resources-related news right to your email inbox.