Are Alcoholics Anonymous meetings protected by the FMLA?
Posted January 29, 2016
Tom, an employee, finally told Cherie, the HR manager, that he needed time off under the Family and Medical Leave Act (FMLA) to enter rehab for alcoholism. Cherie requested and received a certification, which indicated tha t Tom would need reduced-schedule FMLA leave for weekly follow-up appointments with a counselor and for daily Alcoholics Anonymous (AA) meetings. Cherie wondered if all the time off would qualify for FMLA leave. She decided to do a little research.
According to the National Institutes of Health, in 2013, 16.6 million adults ages 18 and older (7 percent of this age group) had a drinking problem. About 1.3 million of these adults received treatment. Most people in this age group are employed. So it shouldn't be too surprising to learn that someone in your organization might have such a problem and need treatment. Such treatment might include attending AA meetings.
When it comes to the FMLA, an eligible employee is entitled to take leave because of a serious health condition. Substance abuse, including alcoholism, can be a serious health condition if it meets certain requirements. One of the parts of the definition involves receiving multiple treatments, and AA meetings could be seen as treatments. For this part of the definition, any period of absence to receive such treatments would be FMLA leave.
FMLA leave, however, may be taken only for treatment for substance abuse by a health care provider or by a provider of health care services on referral by a health care provider. If a health care provider, therefore, refers an employee to AA meetings as part of the treatment, attending the meetings would be FMLA leave.
Cherie would benefit from a thorough review of the certification to ensure that it indicated that Tom, indeed, had a serious health condition. She should also keep in mind that, just because an employee might have a substance abuse condition, while she cannot take action against the employee because he exercised his right to take FMLA leave for treatment, she does not need to allow Tom to be under the influence while at work.
Having a well-communicated policy prohibiting employees from being under the influence at work, including repercussions up to and including termination, can help support employers who feel the need to impart such actions.
This article was written by Darlene Clabault of J. J. Keller & Associates, Inc.
---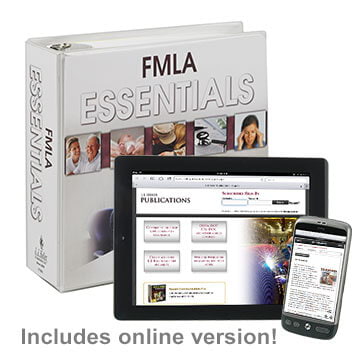 J. J. Keller's FMLA Essentials Manual experts work with you to provide confidential, consistent, high quality leave management.
---
J. J. Keller's FREE HRClicks™ email newsletter brings quick-read human resources-related news right to your email inbox.