Back to Press Releases
FOR IMMEDIATE RELEASE (April 3, 2018)
New J. J. Keller® Training Helps Companies Protect Workers From Fall Hazards, Satisfy Requirements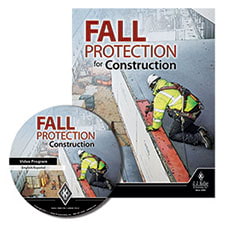 Neenah, WI - Falls are the leading cause of death among private industry construction workers. (Source: OSHA) To help companies teach their workers about fall hazards and protective measures, J. J. Keller & Associates, Inc. has developed its Fall Protection For Construction training program.
"The emphasis OSHA puts on preventing fatalities from falls is evidenced by the fact that failure to provide adequate fall protection training was the ninth most frequently cited OSHA violation in 2017," said Mark Stromme, workplace safety subject-matter expert for J. J. Keller. "Proper training is essential to avoiding citations and fines as well as keeping workers safe."
Created by an in-house team of experts in regulatory compliance and curriculum development, Fall Protection For Construction helps satisfy OSHA's fall protection training requirements (29 CFR 1926.503). The program covers fall hazards and ways to eliminate or prevent them; types of fall protection equipment and scenarios when each would be appropriate; and how to properly select, inspect, use, and store fall protection equipment.
Fall Protection For Construction is available as a two-in-one program English/Spanish DVD, and in Video Training Book, Pay Per View, and Online Course formats in both English and Spanish. To learn more, visit JJKeller.com/200759
About J. J. Keller & Associates, Inc.
Since its beginning as a one-man consulting firm in 1953, J. J. Keller & Associates, Inc. has grown to become the most respected name in safety and regulatory compliance. Now over 1,400 associates strong, J. J. Keller serves over 600,000 customers — including over 90% of the Fortune 1000® companies. The company's subject-matter expertise spans nearly 1,500 topics, and its diverse solutions include training via online courses, streaming video or DVD; online management tools; managed services; consulting services; online and print compliance manuals and instructional publications; ELogs and mobile technology, forms and supplies.
Safety professionals rely on J. J. Keller's in-house expertise and wide selection of products and services to reduce risk and improve regulatory compliance, performance management, and operational efficiency. For more information, visit JJKeller.com.
For more information, contact:
Tom Hines
Director of Creative & Promotions
J. J. Keller & Associates, Inc.
1-800-843-3174
Email: thines@jjkeller.com