Press Room
News Releases
FOR IMMEDIATE RELEASE (September 29, 2015)
J. J. Keller takes ELD partnership with Mercer Transportation to new level; hosts annual inspection event.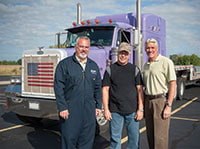 Neenah, WI - Getting over 3,000 owner-operator truck drivers up and running with E-Logs is challenging. That's why J. J. Keller is going the extra mile to make the process easier for customers like Mercer Transportation of Louisville, Ky.
On September 22-23, J. J. Keller hosted one of Mercer's annual inspection events, held at locations across the country. Drivers were able to get their federally mandated annual inspection done by Mercer personnel. They were also able to have J. J. Keller's Electronic Logging Device (ELD) installed, and were trained on how to use it.
"This event allowed our contractors (drivers) better access to their required inspection," said Rob Curry, assistant safety director for Mercer. "The interaction our drivers had with J. J. Keller staff was invaluable and really helped support our E-Log implementation efforts. J. J. Keller's consistent willingness to listen to our needs and come up with solutions is awesome."
"Many associates are working hard to make the E-Log transition easier for Mercer," said Tom Reader, director of marketing at J. J. Keller. "The partnership we have with them is valuable to us in many ways. For example, we use their insight and feedback to consider future E-Log and ELD improvements. We're committed to delivering the best solutions for compliance — and Mercer helps us do that."
About J. J. Keller & Associates, Inc.
Since its beginning as a one-man consulting firm in 1953, J. J. Keller & Associates, Inc. has grown to become the most respected name in safety and regulatory compliance. Now over 1,400 associates strong, J. J. Keller serves over 420,000 customers — including over 90% of the Fortune 1000® companies. The company's subject-matter expertise spans nearly 1,500 topics, and its diverse solutions include E-Logs and mobile technology; training via online courses, streaming video or DVD; online management tools; managed services; consulting services; online and print publications; forms and supplies.
Transportation professionals rely on J. J. Keller® in-house expertise and wide selection of products and services to reduce risk and improve regulatory compliance, performance management and operational efficiency. For more information, visit JJKeller.com.
For more information, contact:
Mary Borsecnik
Corporate Marketing Communications Specialist
J. J. Keller & Associates, Inc.
1-800-843-3174, ext. 7050
Email: mborsecnik@jjkeller.com