Back to Press Releases
FOR IMMEDIATE RELEASE (October 1, 2021)
J. J. Keller Simplifies Compliance as 2022 UCR Enrollment Opens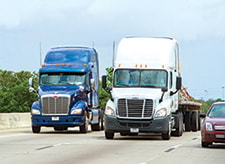 Neenah, WI - The Unified Carrier Registration (UCR) enrollment period for 2022 is now open, lasting from October 1, 2021 through December 31, 2021. To help make it easier for interstate motor carriers to submit their information accurately and on time, J. J. Keller & Associates, Inc. offers its Unified Carrier Registration Service.
"The UCR renewal process is often a challenging one for carriers," said Shaun Gunderson, vice president of managed services at J. J. Keller. "However, our team of regulatory specialists are able to ensure that each carrier's UCR renewal is accurate, so they only pay what they're required to and never have to worry about the deadline. We make sure everything is complete and filed on time."
To provide even greater assistance, J. J. Keller also offers its DOT Authority Monitoring Service, which provides carriers with UCR and MCS-150 filing; year-round monitoring of their operating status and insurance coverage; a free monthly report identifying compliance gaps; a free welcome kit of J. J. Keller supplies; and access to J. J. Keller's regulatory experts.
For more information about J. J. Keller's Unified Carrier Registration and DOT Authority Monitoring services, visit TruckingAuthority.com or call 888-473-4638.
About J. J. Keller & Associates, Inc.
J. J. Keller & Associates, Inc. is the most respected name in safety and regulatory compliance. Since its beginning as a one-man consulting firm in 1953, the company has grown to over 1,500 associates serving more than 500,000 customers — including over 90% of the Fortune 1000® companies. The company's subject-matter expertise spans nearly 1,500 topics, and its diverse solutions include ELogs and mobile technology; training via online courses, streaming video or DVD; online management tools; managed services; consulting services; online and print publications; forms and supplies.
Transportation professionals rely on J. J. Keller's in-house expertise and wide selection of products and services to reduce risk and improve regulatory compliance, performance management, and operational efficiency. For more information, visit JJKeller.com
For more information, contact: