Back to Press Releases
FOR IMMEDIATE RELEASE (June 7, 2022)
J. J. Keller® Safe & Smart™ Training Expands to Include Forklifts and Passenger-Carrying Vehicles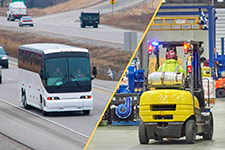 Neenah, WI - Due to the growing demand for safer drivers and reduced risk, J. J. Keller & Associates, Inc. has added forklift and passenger-carrying vehicle programs to its hands-on J. J. Keller® Safe & Smart™ Driver Training.
"With an increasing value placed on skilled drivers, companies are also placing an increasing value on more impactful training," said Dustin Kufahl, director of driver training at J. J. Keller. "What makes our programs so effective is that our instructors are exceptionally qualified, and our instruction is conducted onsite and tailored for the exact vehicles drivers operate and the on-the-job challenges they face. Now we're bringing that same approach to forklift and passenger-carrying vehicle training."
J. J. Keller's new ELDT Trainer Certification Program—Passenger Endorsement certifies a company's trainers to train entry-level drivers who want to earn both their CDL-B and P endorsement. A J. J. Keller instructor will teach trainers to deliver the endorsement-specific theory and behind-the-wheel training on any commercial motor vehicle designed to transport 16 or more passengers (excluding school buses).
To address the high number of violations and accidents related to forklift operation, J. J. Keller has added two programs designed to reduce those risks.
Forklift Operator Training consists of classroom and range instruction for the certification of inexperienced operators and recertification of experienced operators. Topics include inspection, maintenance, maneuvering, safety, and concludes with an operator evaluation.
The Forklift Trainer Certification Program teaches a company's trainers to deliver J. J. Keller's Forklift Operator Training on their own. This includes training on how to conduct classroom and range instruction, conduct final certification testing, employ adult learning methods and use the training materials provided as part of the program.
"Because our forklift offerings are both one-day programs, they also make ideal add-ons for companies already using our other Safe & Smart training," said Kufahl.
These three new additions to J. J. Keller® Safe & Smart™ Driver Training follow on the heels of their recently added ELDT Trainer Certification, Yard Jockey Training and Defensive Driver Training, in addition to their CDL and Non-CDL Driver Training and Trainer Certification Programs.
For more information about J. J. Keller® Safe & Smart Driver Training, call 833-982-1236.
J. J. Keller & Associates, Inc.
Since we began as a family-owned company in 1953, our purpose at J. J. Keller & Associates, Inc. has been to protect people and the businesses they run. Today, serving 500,000+ companies across North America, our associates are proud to make a larger impact than ever. Transportation, construction and industrial organizations of all sizes rely on our expert insights to create safe work environments and simplify complex government regulations. They trust our diversified portfolio of solutions – cloud-based management tools, consulting, professional services, training, forms, PPE and safety supplies – to safeguard workers, reduce risk and build operational confidence. www.jjkeller.com.
For more information, contact: