Back to Press Releases
FOR IMMEDIATE RELEASE (December 29, 2022)
J. J. Keller Ranks #2 on Consulting Magazine's List of Fastest Growing Firms
Increasing Clients' Safety & Reducing Their Risk Is Catalyst for Growth at J. J. Keller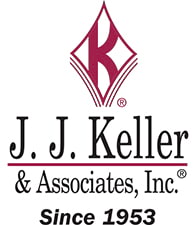 Neenah, WI - North America's leading provider of safety and regulatory compliance solutions – has been ranked #2 on Consulting magazine's list of Fastest Growing Firms in 2022.
This was J. J. Keller's 7th consecutive time on the Fastest Growing Firms list and its first time taking the #2 spot on the list.
Consulting magazine's Fastest Growing Firms list is a global look at the fastest-growing firms in the consulting field – of any size or any sector. Consulting ranks the firms by rate of revenue growth over the prior three years. J. J. Keller has made the list every year since 2015 (with the exception of 2021, when Consulting magazine did not publish a list). As Consulting shared this year, the publication calculated J. J. Keller's Consulting Services growth at 228.95%.
"Our growth can be attributed to the value we provide to clients," said Steve Murray, J. J. Keller Executive Vice President of Consulting Services. "The past three years have been difficult for so many businesses, and this has made reducing risk even more critical. With J. J. Keller experts at hand, companies have a trusted resource for reducing operational risk. They know J. J. Keller will help keep their employees safe, and they know that we understand the intricacies of complex regulations. In addition to addressing their existing situations, we've also listened to what is next for them. We've built up our programs and our staffing to ensure the highest level of knowledge for new consulting lines, such as Environmental Healthy & Safety and our Safe & Smart® Training for clients' drivers, operators and trainers."
Consulting magazine publicly announced the ranking of the 2022 honorees in August and the ranking in October. You can view the 26 firms on this year's list here.
About J. J. Keller & Associates, Inc.
Since we began as a family-owned company in 1953, our purpose at J. J. Keller & Associates, Inc. has been to protect people and the businesses they run. Today, serving 500,000+ companies across North America, our associates are proud to make a larger impact than ever. Transportation, construction and industrial organizations of all sizes rely on our expert insights to create safe work environments and simplify complex government regulations. They trust our diversified portfolio of solutions – cloud-based management tools, consulting, professional services, training, forms, PPE and safety supplies – to safeguard workers, reduce risk and build operational confidence. www.jjkeller.com
For more information, contact: