Back to Press Releases
FOR IMMEDIATE RELEASE (June 21, 2016)
J. J. Keller & Associates, Inc. Introduces New Video Training Book
Provides On-the-Go Access to Employee Safety Training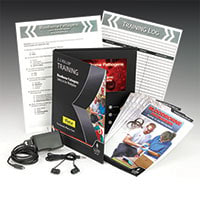 Neenah, WI - J. J. Keller & Associates, Inc., the nation's leading provider of safety and regulatory compliance solutions, has introduced the Video Training Book, an all-new way to provide video-based training. It takes training out of the classroom, and off the internet, and puts it into employees' hands.
The J. J. Keller® Video Training Book fulfills the need for many kinds of training — including orientation, refresher, in-the-moment, post-incident and others — in workplace safety, transportation, hazmat and construction.
A dozen required training topics are currently available in the new format, including alcohol and drug testing, bloodborne pathogens, forklifts, HazCom, lockout/tagout, Hours of Service, hazmat transportation and confined spaces.
According to Paul Paulick, a senior mobile technology specialist at J. J. Keller, "The Video Training Book can be used anywhere, whenever it's convenient. This format is portable and doesn't require an internet connection, so it's ideal for training new, remote, mobile and contract employees wherever they are located".
Each Video Training Book comes complete with employee handbooks, quizzes and answer key, training log, earbuds and AC adapter.
Visit JJKeller.com/VideoBook for more information.
About J. J. Keller & Associates, Inc.
Since its beginning as a one-man consulting firm in 1953, J. J. Keller & Associates, Inc. has grown to become the most respected name in safety and regulatory compliance. Now over 1,400 associates strong, J. J. Keller serves over 560,000 customers — including over 90% of the Fortune 1000® companies. The company's subject-matter expertise spans nearly 1,500 topics, and its diverse solutions include training via online courses, streaming video or DVD; online management tools; managed services; consulting services; online and print compliance manuals and instructional publications; ELogs and mobile technology, forms and supplies.
Safety professionals rely on J. J. Keller in-house expertise and wide selection of products and services to reduce risk and improve regulatory compliance, performance management and operational efficiency. For more information, visit JJKeller.com and JJKellerElogs.com.
For more information, contact:
Mary Borsecnik
Corporate Marketing Communications Specialist
J. J. Keller & Associates, Inc.
1-800-843-3174, ext. 7050
Email: mborsecnik@jjkeller.com