Back to Press Releases
FOR IMMEDIATE RELEASE (January 7, 2016)
J. J. Keller & Associates, Inc. Expands Educational Efforts in Response to ELD Mandate
Series of seminars to be delivered in 2016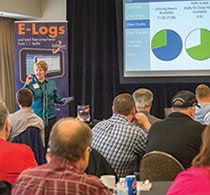 Neenah, WI - J. J. Keller & Associates, Inc., a leader in regulatory compliance and electronic logging technology, announced today that they are expanding their efforts to educate transportation fleet professionals on the ELD rule. With the release of the FMCSA rule that mandates the use of electronic logging devices (ELDs) by December 2017, fleet professionals are tasked with understanding the operational and regulatory impacts of the mandate.
J. J. Keller & Associates, Inc. will be holding more than 80 seminars in nearly 40 states during 2016. These complimentary events, developed for fleet executives, will help explain the requirements of the ELD rule and how it impacts the Hours of Service regulations, and introduce ELD technology to comply with the rule. The company has also published an Hours of Service Compliance & E-Log Planner, which provides practical information and planning tools ranging from E-Log policy development to training and auditing.
"With more than 60 years of expertise in helping organizations manage regulations and compliance, J. J. Keller & Associates can help fleets make a successful transition to electronic logs," said Marne Keller-Krikava, president and CEO at J. J. Keller & Associates, Inc. "We strive to help our customers better understand the regulations and available options, so they can make educated decisions for their organizations and reduce risk."
J. J. Keller & Associates, Inc. provides flexible solutions to help fleets comply with the ELD rule. To learn more about J. J. Keller® electronic logging solutions, visit JJKellerELogs.com.
About J. J. Keller & Associates, Inc.
Since its beginning as a one-man consulting firm in 1953, J. J. Keller & Associates, Inc. has grown to become the most respected name in safety and regulatory compliance. Now over 1,400 associates strong, J. J. Keller serves over 420,000 customers — including over 90% of the Fortune 1000® companies. The company's subject-matter expertise spans nearly 1,500 topics, and its diverse solutions include E-Logs and mobile technology; training via online courses, streaming video or DVD; online management tools; managed services; consulting services; online and print publications; forms and supplies.
Transportation professionals rely on J. J. Keller® in-house expertise and wide selection of products and services to reduce risk and improve regulatory compliance, performance management and operational efficiency. For more information, visit JJKeller.com.
For more information, contact:
Mary Borsecnik
Corporate Marketing Communications Specialist
J. J. Keller & Associates, Inc.
1-800-843-3174, ext. 7050
Email: mborsecnik@jjkeller.com