Back to Press Releases
FOR IMMEDIATE RELEASE (April 27, 2017)
Free Resource Helps Fleets Manage the Transition to ELogs
J. J. Keller & Associates, Inc. Adds Complimentary Whitepaper to Their Library of Free ELD Resources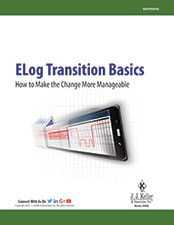 Neenah, WI - One of the key challenges transportation professionals face under FMCSA's ELD mandate is understanding how to successfully manage their transition to ELogs.
"Fleets now have a very small window in which to switch to ELogs before the December 2017 ELD mandate deadline," said Thomas Bray, transportation industry consultant at J. J. Keller & Associates, Inc. "And that window is closing. It's important for these fleets to realize that this switch will impact everything from Hours of Service to scheduling, delivery time, driver training, log auditing, and more. So the better they manage the change, the better they can prevent unforeseen delays, operational problems or being put out of service if their transition isn't completed in time."
To provide fleets with best practices for successfully managing the transition to ELogs, J. J. Keller has created a complimentary whitepaper titled "ELog Transition Basics: How to Make the Change More Manageable." This whitepaper includes guidance for selecting an ELD system, implementing ELDs, getting management and driver buy-in, developing ELD policies and procedures, providing driver and supervisor training, and more.
"The change management approach presented in this whitepaper will work whether a fleet has five trucks or 5,000 trucks," added Bray. "But only if it's put into action now. Fleets that procrastinate are going to find the transition very difficult to accomplish properly in time for the mandate deadline."
To request J. J. Keller's free "ELog Transition Basics: How to Make the Change More Manageable" whitepaper, visit JJKeller.com/ELogTransition or call 855-693-5338.
About J. J. Keller & Associates, Inc.
Since its beginning as a one-man consulting firm in 1953, J. J. Keller & Associates, Inc. has grown to become the most respected name in safety and regulatory compliance. Now over 1,400 associates strong, J. J. Keller serves over 600,000 customers — including over 90% of the Fortune 1000® companies. The company's subject-matter expertise spans nearly 1,500 topics, and its diverse solutions include ELogs and mobile technology; training via online courses, streaming video or DVD; online management tools; managed services; consulting services; online and print publications; forms and supplies.
Transportation professionals rely on J. J. Keller® in-house expertise and wide selection of products and services to reduce risk and improve regulatory compliance, performance management and operational efficiency. For more information, visit JJKeller.com.
For more information, contact:
Mary Borsecnik
Corporate Marketing Communications Specialist
J. J. Keller & Associates, Inc.
1-800-843-3174, ext. 7050
Email: mborsecnik@jjkeller.com