Back to Press Releases
FOR IMMEDIATE RELEASE (March 8, 2022)
FedEx Ground Selects J. J. Keller as Qualified Vendor of Trainer Certification Services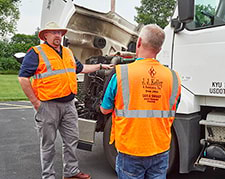 Neenah, WI - FedEx Ground (FXG) has selected J. J. Keller & Associates, Inc. as an approved vendor to certify trainers at FXG's Independent Service Providers (ISPs) to deliver qualified CMV driver safety training.
"Through our industry-leading trainer certification program, we're able to give ISP trainers high-impact, onsite instruction for teaching their drivers to operate safely, prevent accidents and avoid violations," said Dustin Kufahl, Director of Driver Training at J. J. Keller. "We pride ourselves on creating safer trainers so the ISPs can have better drivers, resulting in better business."
According to Kufahl, J. J. Keller not only collaborated with FXG to develop a trainer certification program that meets all of their requirements, it goes beyond that to address key safety and compliance best practices for developing well-rounded professional drivers. The program also incorporates the latest adult learning methods so trainers can effectively train for multiple learning styles.
"Preparing these trainers to succeed in the classroom, on the range and on the road is something our instructors take great pride in," added Kufahl. "In fact, we train them to the same standard our own instructors are trained to. Plus, our instructors are qualified drivers with an average of more than 10 years of commercial driver training experience, so it's no surprise they've consistently received incredible satisfaction ratings from our clients."
For more information about J. J. Keller's FXG trainer certification services for ISPs, visit JJKeller.com/Learn/Graduated-Training, call 844-288-2634 or email FedExServiceProvider@jjkeller.com.
About J. J. Keller & Associates, Inc.
Since we began as a family-owned company in 1953, our purpose at J. J. Keller & Associates, Inc. has been to protect people and the businesses they run. Today, serving 500,000+ companies across North America, our associates are proud to make a larger impact than ever. Organizations of all sizes rely on our expert insights to help create safe work environments and simplify complex government regulations. They trust in our comprehensive portfolio of solutions – including ELogs, dash cams and mobile technology; driver training via online courses, streaming video or DVD; cloud-based management tools; managed services; consulting services; online and print publications; forms, PPE and safety supplies.
Transportation professionals rely on J. J. Keller's experts, products and services to reduce risk, improve regulatory compliance, manage performance, and boost operational efficiency. For more information, visit JJKeller.com
For more information, contact: