Free Whitepaper
The Importance of Brakes: Key Components, Inspection and Maintenance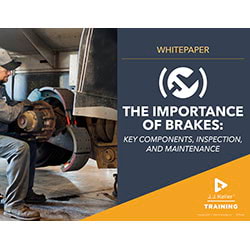 Did you know over a third of road inspection out-of-service violations on commercial vehicles involve out-of-adjustment brakes and other brake system violations? In order to keep their vehicles on the road, drivers must know not only how to properly inspect and maintain air brakes, but also understand how air brakes function.
Download this free brake safety whitepaper to learn how to keep your brakes well maintained and functioning properly. It covers important topics like:
The compressor, governor, and air dryer
"Parallel" systems
The slack adjuster
Heat
Readjustment limits
And more
Fill out the form to download your FREE brake safety whitepaper.