Driver Applicant Management
Hire and qualify your drivers faster and easier!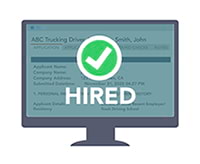 J. J. Keller's Driver Applicant Management simplifies driver qualification. Our hiring dashboard lets you quickly create custom job postings, and our applicant center allows you to collect driver applications and related documents to streamline the entire hiring process.
Create custom job postings
Order background checks
Manage driver applicant status
Track driver recruiting effectiveness
Fill out the form to speak to a Compliance Specialist today about Driver Applicant Management and the rest of J. J. Keller's Driver Qualification Portfolio!